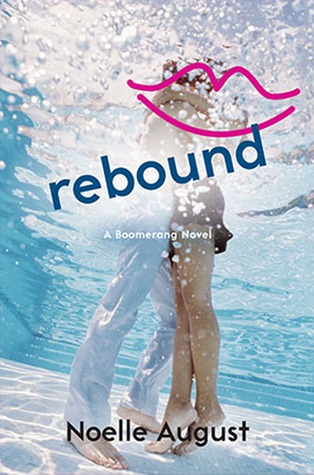 Title: Rebound
Author: Noelle August
Series: Book Two in the Boomerang Series
Published By: William Morrow (February 10, 2015)
Source: ARC Copy Provided by the Publisher
(in exchange for an honest review)
Genre: NA Contemporary Romance
My Rating: 4 Stars!
Book Description:
Hooking up is only the beginning of the fun in this sexy and irresistible second installment of the thrilling New Adult series, Boomerang.
Adam Blackwood has it all. At twenty-two, he's fabulously wealthy, Ryan Gosling-hot and at the top of the heap in the business world. His life is perfect, until a scandal from his past resurfaces and knocks the tech wunderkind down, throwing his company, Boomerang, a hook-up site for millennials, into chaos.
Three years ago, Adam married his high school love—and then lost her in a tragic accident. Now, the heartbreak and guilt he's tried to bury with work and women begins to take over his life.
Alison Quick, the twenty-one-year-old daughter of a business tycoon—and the very ex-girlfriend of Boomerang's former intern, Ethan—has a problem of her own. She's got one chance to prove to her father that she deserves a place in his empire by grabbing control of Boomerang and taking Adam down.
But as Alison moves in on him, armed with a cadre of lawyers and accountants, she discovers there's much more to Adam and Boomerang than meets the eye. Will earning her father's approval come at the price of losing her first real love? It appears so, unless Adam can forgive her for wrecking his life and trying to steal his livelihood. But Alison hopes that old adage is right. Maybe love can conquer all.
If there is one thing August proved to me in Boomerang, it was that this woman knows how to write!
I am happy to report that Rebound, once again proves that point.
This was such a fun read! I really liked Adam in Boomerang but in Rebound, I fell in love with him.
I wasn't sure how I was going to feel about Ali, I mean she didn't exactly win anyone over in the first book and the girl had her ups and downs, but I did end up liking her and even more Adam.
Both of them had their hang ups like all these good stories do and even some drama but it was worth it in the end to get their happily ever after. There were quite a few laughs along the way and even those "awww" moments that are a must have not to mention the more steamy moments as well.
Sexual tension, drama, laughs, fun, a little heartbreak, and a great list of characters (old and new) to go along with it all and you once again have a wonderful story that will sweep you away for a few hours and leave you with a smile on your face and hoping like heck that the next story is all Cookie's, because let's face it, the girl needs a story, I know she has one and I want it.
Wonderful job once again from this amazing author that seems, can write in any genre and excel at it.
*All thoughts and opinions are my own and were not influenced by the author or publisher. I was not compensated for this review.*