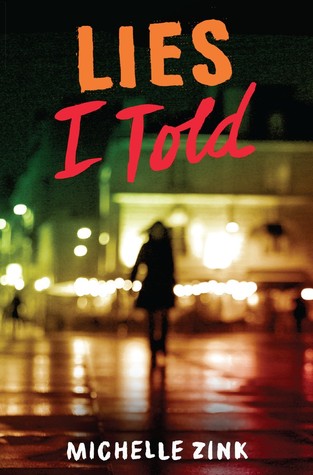 Title: Lies I Told
Author: Michelle Zink
Series: Book One
Published By: HarperTeen (April 7, 2015)
Source: ARC Copy Provided by the Publisher
(in exchange for an honest review)
Genre: YA Mystery
My Rating: 4 Stars
Book Description:
What if, after spending a lifetime deceiving everyone around you, you discovered the biggest lies were the ones you've told yourself?
Grace Fontaine has everything: beauty, money, confidence, and the perfect family.
But it's all a lie.
Grace has been adopted into a family of thieves who con affluent people out of money, jewelry, art, and anything else of value. Grace has never had any difficulty pulling off a job, but when things start to go wrong on the Fontaines' biggest heist yet, Grace finds herself breaking more and more of the rules designed to keep her from getting caught...including the most important one of all: never fall for your mark.
Perfect for fans of Ally Carter, Cecily von Ziegesar, and Gail Carriger, this thrilling, high-stakes novel deftly explores the roles of identity and loyalty while offering a window into the world of the rich and fabulous.
What is it about a book involving spies that just makes it so darn appealing whether it be in the adult genre or the YA one?
Is it the nonstop drama and action we just know we are going to get? Or maybe all the deceit and danger lurking around every corner? Or maybe it is simply the appeal of being someone else for a very short amount of time, either way, they have always hooked me and called to.
And I couldn't of picked a better story to fall right into. I was intrigued after the prologue and hooked after the first few chapters. I just knew this was going to be a fun exciting ride and I was all prepared for it.
There are some characters that just after a few short pages, you just know you are going to like, relate to and most of all, connect with and Grace was that character for me.
Don't get me wrong, she made a lot of stupid mistakes and some that made me want to reach through he pages and shake some sense into her but overall, I liked her. Her struggle with dong what she needed to and what as right and most of all, her journey to discovering that maybe things weren't as great as she first thought they were. That maybe the life she leads, isn't so black and white anymore.
I really enjoyed where the story went and I loved Selena and Logan most of all. My only complaint was that incredible open ended ending. I mean, what. The. Heck?
There has to be a sequel somewhere on the horizon because the author couldn't have left it all out there like that. Too much, way too much, left undone. Too much happened at the end for that to be it.
I am so looking forward to book two and there dang well better be a book two. I need answers dang it!
*All thoughts and opinions are my own and were not influenced by the author or publisher. I was not compensated for this review*