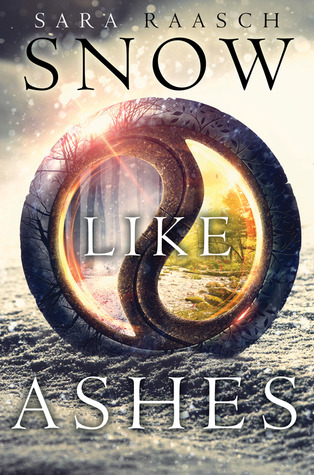 Title: Snow Like Ashes
Author: Sara Raasch
Series: Book One in the Snow and Ashes Series
Published By: Baltzer & Bray (October 14, 2014)
Source: Purchased
Genre: YA Fantasy
My Rating: 4.5 Stars!
Book Description:
A heartbroken girl. A fierce warrior. A hero in the making.
Sixteen years ago the Kingdom of Winter was conquered and its citizens enslaved, leaving them without magic or a monarch. Now, the Winterians' only hope for freedom is the eight survivors who managed to escape, and who have been waiting for the opportunity to steal back Winter's magic and rebuild the kingdom ever since.
Orphaned as an infant during Winter's defeat, Meira has lived her whole life as a refugee, raised by the Winterians' general, Sir. Training to be a warrior—and desperately in love with her best friend, and future king, Mather — she would do anything to help her kingdom rise to power again.
So when scouts discover the location of the ancient locket that can restore Winter's magic, Meira decides to go after it herself. Finally, she's scaling towers, fighting enemy soldiers, and serving her kingdom just as she's always dreamed she would. But the mission doesn't go as planned, and Meira soon finds herself thrust into a world of evil magic and dangerous politics – and ultimately comes to realize that her destiny is not, never has been, her own.
I am always amazed when a new author can waltz into the YA genre and put froth a book that would make any seasoned veteran envy and that is exactly what Raasch has manged to do with Snow Like Ashes.
I was completely blown away by how well put together this novel is. How well the storyline flowed, how lovable the characters were and how even something as simple as the dreaded love triangle, just worked and worked well.
I really don't even know what else to say about this other than, once again, I am in love with this genre and all that it has to offer.
Meira is everything I like in a heroine. Strong, fierce, brave, and she loves fiercely. She is a fighter in every sense of the word and I just connected with her from the beginning.
Mather and Theron were both wonderful in their own separate ways and yes, I did say there was a love triangle, and let me tell you, both boys are equally fabulous. It will be hard in the end when one gets hurt but I also have to admit, that instead of being irritated by it and rolling my eyes at the tangled web of love, it just worked and was believable. Miera isn't wishy washy like most heroines in her place and her love for the two, are different and both have their advantages over the other. Both would be great for her. Both would let her grow and both have my admiration for different reasons.
This book really did have the right amount of secondary characters, villains and of course main characters. The right amount of romance, action, mystery, and of the paranormal. It truly gave me every single thing I was hoping it would and left me wanting more by the end. I loved the world Raasch created. It was detailed and explained without once feeling like overload of info being dumped on you having it affect the pacing of the story.
I am so excited I took a chance and read this and not just liked it, but loved it. I love when hype pays off and books really come through and shine.