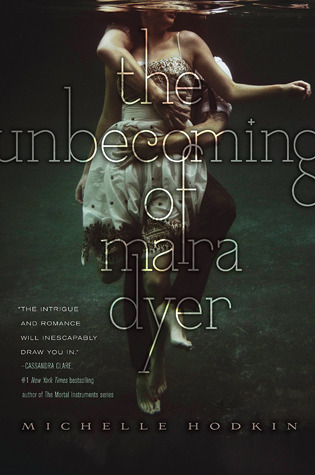 Title: The Unbecoming of Mara Dyer
Author: Michelle Hodkin
Series: Book One in the Mara Dyer Trilogy
Published By: Simon & Schuster (September 27, 2011)
Source: Purchased
Genre: YA Paranormal
My Rating: 4.5 Stars!
Book Description:
Mara Dyer believes life can't get any stranger than waking up in a hospital with no memory of how she got there.
It can.
She believes there must be more to the accident she can't remember that killed her friends and left her strangely unharmed.
There is.
She doesn't believe that after everything she's been through, she can fall in love.
She's wrong.
I have a confession to make, I have wanted to read this series since the first time I laid eyes on it, which sadly, was when it released in 2012.
Why haven't I read it before now, almost 3 years later? Good question and one I honestly don't know the answer to.
I could lie and say I wanted all the books to be out in the trilogy before starting it but, that really isn't the truth either although a really good excuse to put it off. I think my biggest concern was that I was hoping it would be good, plain and simple. That I hadn't once again been lured in by the hype and a pretty cover.
What if it didn't' live up to the hype? What if I hated it and having already purchased all three books in the trilogy, wasted a lot of money on something that might be a dud not to mention time?
Let me say with complete confidence, this wasn't a dud. It was fabulous and had my complete attention from the first page to the last.
I loved Mara, I loved Noah, Daniel, Jamie, I loved them all.
And believe it or not, what I loved most of all, besides the mystery, paranormal edge, and the teamy tension between Mara and Noah, was the very fact that Mara's parents and family were present through it all. Their bond and connection was truly amazing to behold and such a relief to have. Too many times in YA literature, parents just aren't around and present in the protagonist's life and it is so sad to see.
This truly took me by surprise. Not only was Mara fabulous but I adored Noah. He was completely swoon worthy and I just want to know more about him and his secrets. In fact, it seems this whole book is full of secrets as Mara tries to navigate her life. To find out what really happened to her, Rachel, Claire, and Jude and about what is happening to her now.
I loved that even though this is told through Mara's eyes, she is as unreliable of a storyteller as it gets because she too, is in the dark and doesn't know fact from fiction. We learn with her and instead of it being frustrating like it very well could have been, it is fascinating instead. It kept me riveted to the book, turning the pages eager to know more.