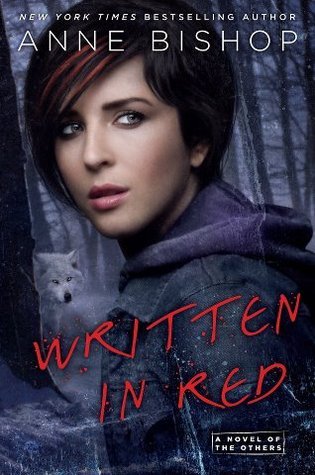 Title: Written in Red
Author: Anne Bishop
Series: Book One in the Others Series
Published By: NAL (March 5, 2013)
Source: Purchased
Genre: UF
My Rating: 4 Stars
Book Description:
As a cassandra sangue, or blood prophet, Meg Corbyn can see the future when her skin is cut—a gift that feels more like a curse. Meg's Controller keeps her enslaved so he can have full access to her visions. But when she escapes, the only safe place Meg can hide is at the Lakeside Courtyard—a business district operated by the Others.
Shape-shifter Simon Wolfgard is reluctant to hire the stranger who inquires about the Human Liaison job. First, he senses she's keeping a secret, and second, she doesn't smell like human prey. Yet a stronger instinct propels him to give Meg the job. And when he learns the truth about Meg and that she's wanted by the government, he'll have to decide if she's worth the fight between humans and the Others that will surely follow.
I have put reading this off for quite a while now, mostly because I just wasn't sure this would be a book that would live up to all the hype. I read the first chapter long ago when it was first released and it just didn't appeal to me for whatever reason. But of course, when so many people recommend it to you, it is hard to say no to giving a book another chance.
So I found myself picking this up for the March TBR challenge and determined to read it, or at the very least give it half a chance this time around.
Again, it took me awhile to warm up to this read. I pushed through it chapter after chapter until before I knew it, I wasn't making myself read it anymore. In fact, I found myself wanting to pick it up and learn more about Meg and the Others. They had an alluring appeal to me that I couldn't even quite name and yet, time and time again I was drawn back into the story.
Bishop managed to create something original from ideas and concepts that are anything but unique and let me tell you, that takes talent.
It wasn't hard to be instantly drawn to the Others. To want to know them, understand them, and see good in their evilness. After all, how many of us have gotten use to the bad boys that can be turned good by the right kind of girl? Probably way too many to name.
And while this isn't exactly that type of story, it is a story about people's perspective changing and with that perspective, their attitude and feelings as well. And I admit, if I didn't sort of fall in love with Henry, Vlad, Sam, Winter, Tess, Air, and Simon and even the mysterious grandfather Erebus, I would be a big fat liar because truth be told, they all won me over in their own little ways.
Like I said, there really isn't anything too unique about the characters themselves but yet the world in which they live, is every bit as original as the story itself. And while I still can't quite place what I loved so much about it, I can say with confidence, that I loved everything about it.
Did this meet my expectations of it? Heck yeah it did. I am fascinated, enthralled, and enchanted by the story and darn if I don't want more of it.