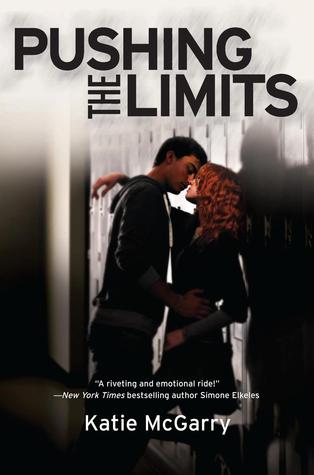 Title: Pushing the Limits
Author: Katie McGarry
Series: Book One in the Pushing the Limits Series
Published By: Harlequin Teen (July 31, 2012)
Source: Purchased
Genre: YA Contemporary
My Rating: 5 Stars!
Book Description:
So wrong for each other …and yet so right.
No one knows what happened the night Echo Emerson went from popular girl with jock boyfriend to gossiped-about outsider with "freaky" scars on her arms. Even Echo can't remember the whole truth of that horrible night. All she knows is that she wants everything to go back to normal.
But when Noah Hutchins, the smoking-hot, girl-using loner in the black leather jacket, explodes into her life with his tough attitude and surprising understanding, Echo's world shifts in ways she could never have imagined. They should have nothing in common. And with the secrets they both keep, being together is pretty much impossible.
Yet the crazy attraction between them refuses to go away. And Echo has to ask herself just how far they can push the limits and what she'll risk for the one guy who might teach her how to love again.
There are times in my life where I am glad I held off on a series and waited for all the books to be released so I could devour them one right after the other. Then there are times when I pick up a book, read it and wonder why in the world I waited so long to read it because no matter what, the wait to read the next one, didn't compare to enjoying the book right then and there. This was one of those times.
How could I have waited this long to meet Noah and Echo? What is wrong with me? How could I have waited so very long to experience the greatness that is this series and McGarry's writing? Sometimes, I really do want to bop myself over the head for waiting so long before starting books, especially those I just know that I will love, regardless of the reasons for it.
I adored this book. I adored Echo and Noah and many times my heart went out to them. I felt for them, cared for them, and I fell in love with them. I was rooting for them the whole way through. I wanted everything good for them but most of all, I wanted them to have each other, because they really were meant for each other for all the right reasons, and even for some of the wrong.
I am in awe over how much emotion, how many feels, were packed into this read. I am still smiling long after it has been put down and wishing that I could read it all over again.
Not only were Echo and Noah amazing but there were some pretty amazing secondary characters as well that I am really hoping are the stars of the other books in the series.
This novel had everything I look for, humor, emotion, one swoon worthy hot boy, one strong fierce girl. Two broken people, great secondary characters and a love story to transcend time. I am so happy I finally picked it up and read it and my only regret is that I didn't do it sooner.