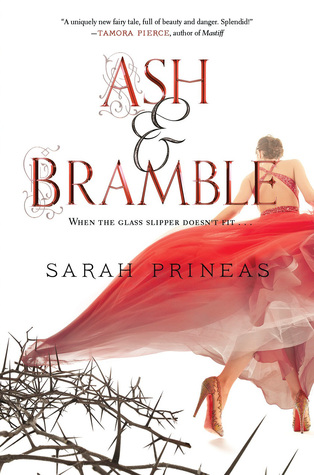 Title: Ash & Bramble
Author: Sarah Prineas
Series: Stand Alone
Published By: Harper Teen (September 15, 2015)
Source: ARC Copy Provided by the Publisher
(in exchange for an honest review)
Genre: YA Fantasy/Retelling
My Rating: 4 Stars!
Book Description:
When the glass slipper just doesn't fit…
The tale of Cinderella has been retold countless times. But what you know is not the true story.
Pin has no recollection of who she is or how she got to the Godmother's fortress. She only knows that she is a Seamstress, working day in and out to make ball gowns fit for fairy tales. But she longs to forsake her backbreaking servitude and dares to escape with the brave young Shoemaker.
Pin isn't free for long before she's captured again and forced to live the new life the Godmother chooses for her—a fairy tale story, complete with a charming prince—instead of finding her own happily ever after.
Sarah Prineas's bold fairy tale retelling is a dark and captivating world where swords are more fitting than slippers, young shoemakers are just as striking as princes, and a heroine is more than ready to rescue herself before the clock strikes midnight.
I'm not going to lie, what drew me first to this novel was the unusual cover. It caught my eye and demanded that I read the synopsis. When I saw that it was a retelling, and a dark one at that, I knew this would be the read for me.
What if the real villain of the story wasn't the Witch but the Godmother instead? What if we never got to choose our own endings, happy or not, but they were chosen for us? Forced onto us by a sinister power that has grown too strong over time? What if everything we thought we knew about happily ever after was all a lie?
I admit, I didn't go into this expecting to be caught up in the story, caught up in Pin and Shoe, but I was. Oh how I was.
Prineas wove a tale so enchanting, so original, and so far from the original that it was hard not to be memorized by it. Not to be caught up in the madness, chaos, and utter unreliability of the tales we have all come to love as small children as they were read to us from storybooks and watched in movies as she twisted them, made them dark and sinister and anything but those we fell in love with.
With a heroine every bit as smart, cunning and strong, as she is unwilling to depend on anyone else to save her but herself. To create her own story, with its own ending. An ending she chooses, one she creates for herself. One where she is the hero, not the prince, not the king, not the Godmother.
This truly was unlike anything I have read before and I loved and savored every single page of it. I truly was hooked after only a few chapters and even now, after finishing it, I am still thinking about the genius behind it. The what ifs and the could have beens.
This took me by surprise and I love Prineas for being able to still surprise me when it comes to this genre, and this retelling. Where magic is afoot and anything is possible, even darkness and misery in a much beloved fairy tale that is anything but happy and cheerful.
*All thoughts and opinions are my own and were not influenced by the author or publisher. I was not compensated for this review.*