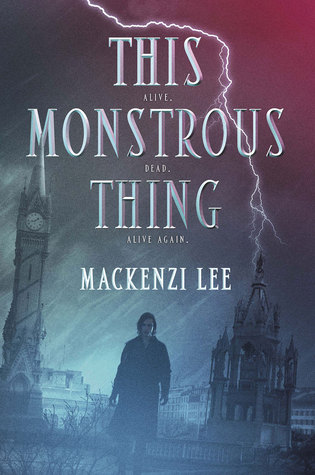 Title: This Monstrous Thing
Author: Mackenzi Lee
Series: Stand Alone
Published By: Katherine Tegen Books (September 22, 2015)
Source: ARC Copy Provided by the Publisher
(in exchange for an honest review)
Genre: YA Retelling/Steampunk
My Rating: 4 Stars!
Book Description:
In 1818 Geneva, men built with clockwork parts live hidden away from society, cared for only by illegal mechanics called Shadow Boys. Two years ago, Shadow Boy Alasdair Finch's life shattered to bits.
His brother, Oliver—dead.
His sweetheart, Mary—gone.
His chance to break free of Geneva—lost.
Heart-broken and desperate, Alasdair does the unthinkable: He brings Oliver back from the dead.
But putting back together a broken life is more difficult than mending bones and adding clockwork pieces. Oliver returns more monster than man, and Alasdair's horror further damages the already troubled relationship.
Then comes the publication of Frankenstein and the city intensifies its search for Shadow Boys, aiming to discover the real life doctor and his monster. Alasdair finds refuge with his idol, the brilliant Dr. Geisler, who may offer him a way to escape the dangerous present and his guilt-ridden past, but at a horrible price only Oliver can pay…
Lee's well written, well told debut novel set in a Victorian steampunk era was fascinating and makes one wonder that it is her first novel. With words that are sometimes lyrical and a setting that is every bit as believable and it fantastical, this story really does stick out and jump off the pages.
Having been one that was always fascinated with Dr. Frankenstein and his freakish monster, it was no wonder that when I saw This Monstrous Thing, I didn't hesitate one iota to pick it up and dive right in.
Entertaining, engaging, imaginative, and fun are just a few words to describe it. I wholeheartedly was hooked from the very first page and found it hard to put down as I ventured into the life of Alasdair, his family, and the mechanical clockwork men that were so hated and feared throughout the story.
I enjoyed this so much and I'm so very excited to read more from this author in the future.
*All thoughts and opinions are my own and were not influenced by the author or publisher. I was not compensated for this review.*