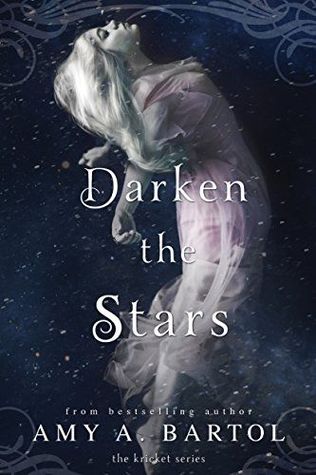 Title: Darken the Stars
Author: Amy Bartol
Series: Book Three in the Kricket Trilogy
Published By: 47North (September 8, 2015)
Source: ARC Copy Provided by the Publisher
(in exchange for an honest review)
Genre: YA Sci fi/Fantasy
My Rating: 4 Stars!
Book Description:
Kyon Ensin finally has what he's always wanted: possession of Kricket Hollowell, the priestess who foresees the future. Together, their combined power will be unrivaled. Kricket, however, doesn't crave the crown of Ethar—she has an unbreakable desire to live life on her own terms, a life that she desperately wants to share with her love, Trey Allairis.
As conspiracies rage in the war for Ethar, Kricket's so-called allies want to use her as a spy. Even those held closest cannot be trusted—including Astrid, her sister, and Giffen, a member of a mysterious order with a hidden agenda. But Kricket's resolve will not allow her to be used as anyone's pawn, even as the Brotherhood sharpens its plans to cut out her heart.
As the destiny prophesied by her mother approaches, Kricket will backtrack through her fiery future to reshape it. For she knows one thing above all else: the only person she can truly count on is herself.
Amy Bartol has done something that I didn't ever think possible, she made me fall in love with a genre that before now, I never really paid much attention to. Not because I didn't like it necessarily, but because I just never had any interest in it until now.
She managed to capture my attention from the very first book in the series and not only hold it, but with book two, be in love with it. I couldn't put her books down and devoured them all. To say I have been anxiously awaiting the release of book three, is quite the understatement.
Kricket, Jax, Trey, Wayra and yes, even Griffen and Kyon stole my heart with each new book and I have become so invested in their stories that I just knew this last book, would be epic.
It is never easy reading the last book in a series. You want to devour it at the same time that you want to savor it and if you are anything like me, you war with yourself on which you should do. In the case of Darken the Stars, I had to devour it, I didn't have any other choice. Once I picked it up, I was immediately whisked right back into Kricket's world and I didn't want to leave until her story was over and I was hoping like heck, that however it ended, it would be a good one. One that would finally give Kricket some peace and hopefully happiness and love too.
This book played with my emotions more than any of the others have. I was torn between those characters I already loved and cared about, to liking characters and even loving certain characters, that I never looked twice at or thought I would actually feel for, let alone grow to care and love.
The story took unexpected twists and turns that I wasn't quite ready for. Kricket is in a tough position no matter what she chooses and like always, she has to look out for those that she cares about as well as trying to keep herself safe and protected. There is no easy choice for her.
There is no easy road for her to go on. No matter what, I knew someone was going to get hurt and I thought I would be prepared for that.
My emotions are still all over the place with the ending and honestly, I'm not going to say a whole lot about it other than Bartol made it realistic to the rest of the storyline, to who Kricket has always been throughout the series and for that, I am thankful for it. Was it the one I was expecting? Not. At. All.
But that's okay too, I'm happy with the way it all went down and especially with the fact that with the ending the way it was, I could definitely see a spin off or even a sequel come about eventually.
All in all, a very realistic and believable conclusion to the series.
*All thoughts and opinions are my own and were not influenced by the author or publisher. I was not compensated for this review.*