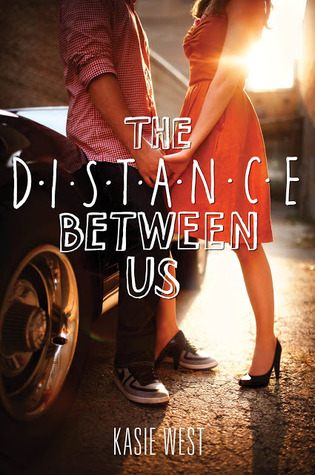 Title: The Distance Between Us
Author: Kasie West
Series: Stand Alone
Published By: HarperTeen (July 2, 2013)
Source: Purchased
Genre: YA Contemporary
My Rating: 4 Stars!
Book Description:
Seventeen-year-old Caymen Meyers studies the rich like her own personal science experiment, and after years of observation she's pretty sure they're only good for one thing—spending money on useless stuff, like the porcelain dolls in her mother's shop.
So when Xander Spence walks into the store to pick up a doll for his grandmother, it only takes one glance for Caymen to figure out he's oozing rich. Despite his charming ways and that he's one of the first people who actually gets her, she's smart enough to know his interest won't last. Because if there's one thing she's learned from her mother's warnings, it's that the rich have a short attention span. But Xander keeps coming around, despite her best efforts to scare him off. And much to her dismay, she's beginning to enjoy his company.
She knows her mom can't find out—she wouldn't approve. She'd much rather Caymen hang out with the local rocker who hasn't been raised by money. But just when Xander's attention and loyalty are about to convince Caymen that being rich isn't a character flaw, she finds out that money is a much bigger part of their relationship than she'd ever realized. And that Xander's not the only one she should've been worried about.
It isn't ever hard to forget after picking up one of West's book, why she is one of the few authors in YA, that is my go to author.
I can always count on a great read from her. Her characters are so full of life, so real, and so much fun to be with. You feel instantly connected to them, protective of them, and completely invested in them.
Cayman was so my kind of character. Sarcastic almost to a fault, funny, so down to earth and just real in every sense of the word and as much as a fictional character can be.
Xander was ever bit the swoon worthy character that I just knew he would be and once again, her secondary characters are always the best.
You would never know picking this up, that it was West's debut novel. The one that changed the world of contemporary YA as soon as it hit shelves.
I am so glad I took the chance on this author and fell in love with her writing, the characters she creates and the messages that she relays. It is so nice having those go to authors that you know you can depend on and count on to consistently deliver an amazing story time and time again.