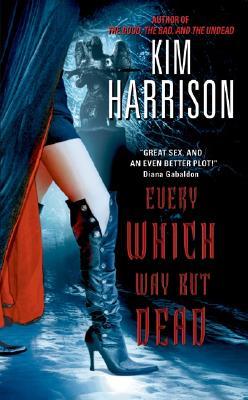 Title: Every Which Way But Dead
Author: Kim Harrison
Series: Book Three in the Hollows Series
Published By: Harper (June 28, 2005)
Source: Purchased
Genre: Urban Fantasy
My Rating: 4 Stars
Book Description:
There's no witch in Cincinnati tougher, sexier, or more screwed up than bounty hunter Rachel Morgan, who's already put her love life and soul in dire jeopardy through her determined efforts to bring criminal night creatures to justice.
Between "runs," she has her hands full fending off the attentions of her blood-drinking partner, keeping a deadly secret from her backup, and resisting a hot new vamp suitor.
Rachel must also take a stand in the war that's raging in the city's underworld, since she helped put away its former vampire kingpin - and made a deal with a powerful demon to do so that could cost her an eternity of pain, torment, and degradation.
And now her dark "master" is coming to collect his due.
I have a confession to make, I didn't love the first book in this series, in fact, I forced myself to finish it. And months later, decided to give the second a chance because some many people loved it.
And while I did like the second book, I still wasn't blown away by it and was still wondering, what all the fuss was about.
You see, it wasn't until book three, this book, that I finally got it. That something clicked and I understood what all the fuss was about.
Can I just say, I love Rachel, Ivy, and Jenks so very much? I mean, truly, I get it now, I really do.
This book was so much fun and I ended up reading late into the night to finish it and knew without hesitation, that I had to buy all the others. Thank goodness this series is over because now I get the privilege of being able to binge read the whole thing and it's summer so lots of late night readings for me!
So yeah, this series has everything I like in a good urban fantasy. Witches, demons, fairies, pixies, vamps, weres...the list could go on. Add in romance, action, adventure, danger, and Harrison truly did write something funtastic. I'm so excited to jump into book four.