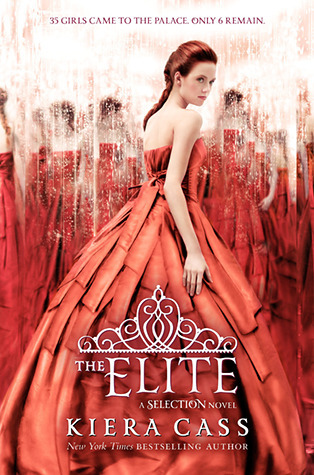 Title: The Elite
Author: Kiera Cass
Series: Book Two in the Selection Series
Published By: HarperTeen (April 3, 2013)
Source: Purchased
Genre: YA Dystopian
My Rating: 3 Stars
Book Description:
The Selection began with thirty-five girls.
Now with the group narrowed down to the six Elite, the competition to win Prince Maxon's heart is fiercer than ever—and America is still struggling to decide where her heart truly lies. Is it with Maxon, who could make her life a fairy tale? Or with her first love, Aspen?
America is desperate for more time. But the rest of the Elite know exactly what they want—and America's chance to choose is about to slip away.
I remember really liking The Selection when I read it over three years ago but for whatever reason put off reading the rest of the books. So honestly, I was expecting to be able to jump right back into The Elite and loving every minute of it.
Before I get into that though, I want to say that this series has always been a fluff read for me. You know, one of those books that you pick up knowing you are simply reading it to have fun. That it will be cliched and cheesy at times and more than once will make you roll your eyes but more than anything else, it will make you smile too.
I remember liking America, even when other readers out there were put off by her attitude and of course, the nasty little love triangle that so many of us have come to loathe as they gained popularity over the years.
And while I did read this over three years ago, for whatever reason, I thought the love triangle would be okay, that I wouldn't be too bothered by it and I would be able to see past it to the rest of the story, but the fact is, the love triangle bothered me way more than I was expecting. In fact, I was pretty exasperated with the whole thing by the end of the book. And even though I was able to enjoy the story and I really did want to know how it ended, I was still upset with American's wishy washy-ness.
Honestly, the triangle was just too much and that made me sad because this is a good story. It is well written and there are some very swoon worthy moments and great messages but that love triangle was a bear to get through and made my love for this series falter.
I will be reading the last book because of sheer morbid curiosity but my love for this series, isn't quite what it once was, but again, I do love the writing and the engaging storyline. If it wasn't for the triangle, I would be rating this much higher but I just can't get past it, no matter how hard I try so for that, this is getting only three stars from me.