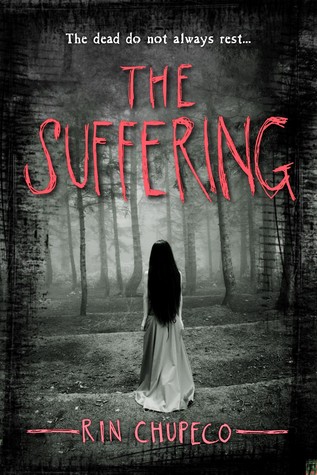 Title: The Suffering
Author: Rin Chupeco
Series: Book Two in the Girl From the Well Series
Published By: Sourcebooks (September 8, 2015)
Source: ARC Copy Provided by the Publisher
(in exchange for an honest review)
Genre: YA Horror/Thriller
My Rating: 5 Stars!!
Book Description:
Over the last year I've gone against faceless women, disfigured spirits, and grotesque revenants. Some people keep dangerous hobbies; skydiving and driving at monster truck rallies and glacier surfing. Me? I cast my soul into the churning waters of potential damnation and wait for a bite.
It's been two years since Tark Halloway's nightmare ended. Free from the evil spirit that haunted him all his life, he now aids the ghostly Okiku and avenges the souls of innocent children by hunting down their murderers. But when Okiku becomes responsible for a death at his high school, Tark begins to wonder if they're no better than the killers they seek out.
When an old friend disappears in Aokigahara, Japan's infamous 'suicide forest', both must resolve their differences and return to that country of secrets to find her.
Because there is a strange village inside Aokigahara, a village people claim does not exist. A village where strange things lie waiting.
A village with old ghosts and an ancient evil – one that may be stronger than even Okiku…
Having loved the richly dark and creepy Japanese lore from the first book, it was without a second thought (other than if the lights were on, it was daylight out, and someone else was home with me) that I picked up The Suffering.
I was so ready to be on that scary roller coaster ride with Tark and Ki once again and couldn't wait to strap in, hang on tight, and get the ride of a lifetime, or at the very least, be scared silly by the thought of the creepy possessed dolls and monsters that seemed to lurk around every corner or rather, persons, from the first book.
I was not disappointed.
This time told in Tark's point of view, the story was not only ramped up in every way possible, but so much fun coming from a male (sarcastic) point of view. I didn't realize how much I loved Tark until getting inside his head and seeing things the way he does.
And yes, in case you were wondering, the fear factor is definitely ramped up as well. Chuleco knows how to write and write well. This story was completely captivating and wonderfully done.
The lore, the monsters, the curses, possessions, ghosts, demons, I just loved all of it. The ending was very satisfying as well. I am so happy I took a chance and gave this series a try. It really was entertaining and creepy in all the right ways.
*All thoughts and opinions are my own and were not influenced by the author or publisher. I was not compensated for this review.*