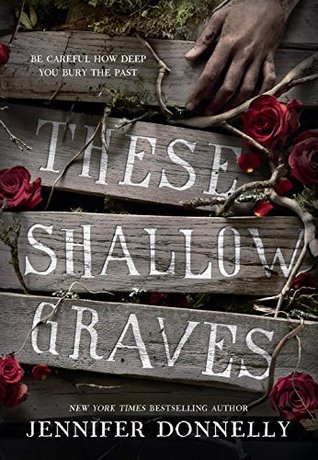 Title: These Shallow Graves
Author: Jennifer Donnelly
Series: Stand Alone
Published By: Random House (October 27, 2015)
Source: ARC Copy Provided by the Publisher
(in exchange for an honest review)
Genre: YA Historical Mystery/Thriller
My Rating: 3.5 Stars
Book Description:
Set in gilded age New York, These Shallow Graves follows the story of Josephine Montfort, an American aristocrat. Jo lives a life of old-money ease. Not much is expected of her other than to look good and marry well. But when her father dies due to an accidental gunshot, the gilding on Jo's world starts to tarnish. With the help of a handsome and brash reporter, and a young medical student who moonlights in the city morgue, Jo uncovers the truth behind her father's death and learns that if you're going to bury the past, you'd better bury it deep.
If there is one thing you can count on with me, is that I love to read about the 19th century. I have said it many times before but there is just something to be said about a strong minded, strong willed feisty girl living in a time when she wasn't suppose to be anything but quiet, well bread, and demure.
Throw in a irresistible murder mystery, a handsome rogue and it was a story that was doubly hard for me to say no to.
I'm so glad I read this. I really did enjoy every single thing about it but especially Jo herself. She was everything I was hoping she would be from the synopsis, strong, fierce, brave, feisty, determined, and a woman that wasn't to be shunted and locked away.
And while this wasn't quite the creepy read I was seriously hoping it would be based on the cover, it did have it's suspenseful moments and I did thoroughly enjoy it.
This was well written, easy paced, character and mystery driven and just enough romance to keep you interested. I do wish the ending hadn't been quite so open ended with a few things left to the imagination but it also left it open to a possible sequel, which I truly would love to see and read.
*All thoughts and opinions are my own and were not influenced by the author or publisher. I was not compensated for this review.*