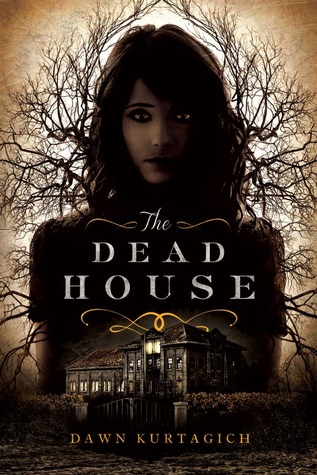 Title: The Dead House
Author: Dawn Kurtagich
Series: Stand Alone
Published By: Little Brown Books for Children (September 15, 2015)
Source: ARC Copy Provided by the Publisher
(in exchange for an honest review)
Genre: YA Horror/Thriller
My Rating: 4 Stars!
Book Description:
Over two decades have passed since the fire at Elmbridge High, an inferno that took the lives of three teenagers. Not much was known about the events leading up to the tragedy - only that one student, Carly Johnson, vanished without a trace...
...until a diary is found hidden in the ruins.
But the diary, badly scorched, does not belong to Carly Johnson. It belongs to Kaitlyn Johnson, a girl who shouldn't exist Who was Kaitlyn? Why did she come out only at night? What is her connection to Carly?
The case has been reopened. Police records are being reexamined: psychiatric reports, video footage, text messages, e-mails. And the diary.
The diary that paints a much more sinister version of events than was ever made publicly known.
One thing that can be said about this time of year, is that it is full of wonderful creepy, crazy stories and The Dead House, definitely fits in with that description.
This book was, to say the least, unique in every way imaginable. From the content, to the setting, to the unreliable narrative to the secondary characters that can't be trusted. Where everyone's sanity is questioned and the mystery itself it just that, mysterious and sometimes hard to decipher.
It has been hours since I have finished this and my thoughts and feelings are still all over the place. I'm not quite sure what to think about it all. From Kaitie to Carly, to Ari to Brett, it was all just weird, but, in a really good, crazy, messed up, kind of way.
Told from journal entries, to interviews, to video footage, this truly was an interesting read with the twisty narrative and facts that were every bit as unreliable as the two main characters. Possession, ghosts, curses, murder, and danger, are just a few of the plot twists waiting for you inside this read.
Creepy and imaginative and sometimes downright scary, this definitely kept my on my toes and flipping the pages. And even though my thoughts and feelings are still a big jumbled mess, I will say that this was a fun and entertaining read that kept me wanting more as much as it did guessing.
*All thoughts and opinions are my own and were not influenced by the author or publisher. I was not compensated for this review.*