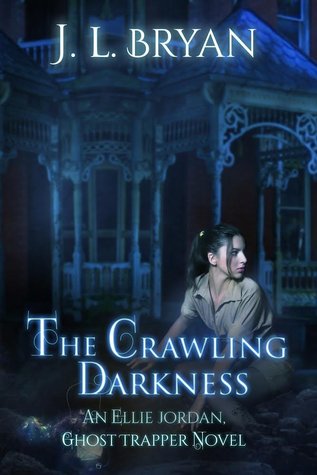 Title: The Crawling Darkness
Author: J.L. Bryan
Series: Book Three in the Ellie Jordan Ghost Trapper Series
Published: February 5, 2015
Source: Copy Provided by the Author
(in exchange for an honest review)
Genre: Paranormal/Urban Fantasy
My Rating: 5 Stars!
Book Description:
Ghost removal specialist Ellie Jordan must face a dangerous, shape-shifting entity that she and Calvin have encountered once before, with tragic results. The spirit has the power to reach into the minds of living and feed on their fears, taking the shape of their worst nightmares, and it has awoken in search of new victims.
Now Ellie must try to succeed where she and her mentor failed before, and try to defeat the twisted and powerful old ghost before it can claim another soul for its collection.
I already really liked this series when I started Crawling Darkness but this new installment ramped everything up. It was scarier, creepier, more dangerous, and honestly, just down right fun. I completely adore this series now and I can't wait to read more.
Once again Ellie is stuck in a bad situation, where the ghosts keep getting nastier except this time, this ghost is about as nasty as they come and one she has encountered before and that encounter, wasn't pretty.
We meet some new faces and get to know the old ones even more. Learning Stacey and Calvin's stories, and even more about Jacob, was so much fun even if those stories were sad heartbreaking ones.
I love this team and the chemistry they all have is amazing.
Once again this is a story you do not want to read in the dark or maybe not even alone during the day. It brought chill bumps to my eyes and more than once had me looking around at things I thought I saw move from the corner of my eye. To say this brought out the slightly paranoid side of me, might be an understatement.
Bryan wows us with his words and elegant but scary as all heck writing and immerses us in Ellie's world full of all things that go bump in the night. And before we know it, we are trapped there and don't ever want to escape.
Another fabulous creepy installment in the Ellie Jordan Ghost Trapper series.
*All thoughts and opinions are my own and were not influenced by the author or publisher. I was not compensated for this review.*