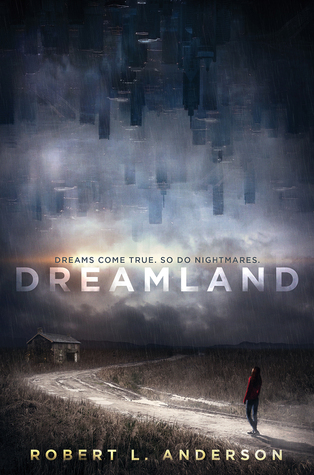 Title: Dreamland
Author: Robert L. Anderson
Series: Stand Alone w/Possible Sequel
Published By: HarperTeen (September 22, 2015)
Source: ARC Copy Provided by the Publisher (in exchange for an honest review)
My Rating: 3 Stars
Book Description:
Odea Donahue has been able to travel through people's dreams since she was six years old. Her mother taught her the three rules of walking: Never interfere. Never be seen. Never walk the same person's dream more than once. Dea has never questioned her mother, not about the rules, not about the clocks or the mirrors, not about moving from place to place to be one step ahead of the unseen monsters that Dea's mother is certain are right behind them.
Then a mysterious new boy, Connor, comes to town and Dea finally starts to feel normal. As Connor breaks down the walls that she's had up for so long, he gets closer to learning her secret. For the first time she wonders if that's so bad. But when Dea breaks the rules, the boundary between worlds begins to deteriorate. How can she know what's real and what's not?
Anderson's debut novel Dreamland is an imaginative read that after only a few short chapters piqued my interest and quickly made me want to know more about Dea and what she could do as well as the dream world itself.
This turned out to be more than just a fantasy read. In fact it is woven with mystery after mystery and even became a bit creepy as Dea became more and more immersed in the dream world and all that entailed with the monsters, men, and other beings that inhabited it.
The heart of the story was in the dream world itself. In Dea's abilities and what they all meant. And while some things were explained, not everything was. I do wish the author would have spent a bit more time fleshing out the fascinating world and what it all meant, especially with the twist towards the end, but overall, this was a fun and interesting story that was perfect to read over a weekend or in a few hours in between books for something fresh and different.
The ending was a bit abrupt but I am guessing that is because this will be part of a series, considering all that was left undone and unsaid, at least, I certainly hope so.
*All thoughts and opinions are my own and were not influenced by the author or publisher. I was not compensated for this review.*