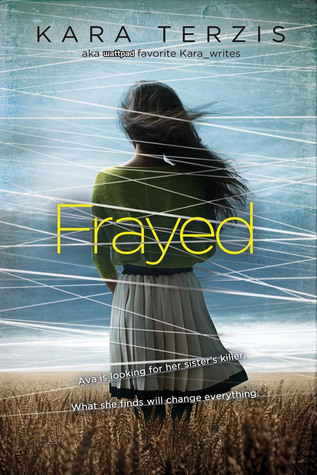 Title: Frayed
Author: Kara Terzis
Series: Stand Alone
Published By: Sourcebooks (June 7, 2016)
Source: ARC Copy Provided by the Publisher
(in exchange for an honest review)
Genre: YA Mystery
My Rating: 3 Stars
Book Description:
Dear Kesley,
My therapist tells me I should write you a letter. Like flushing all my thoughts and feelings out of my system and onto paper. I tell her it's a stupid idea.
But here I am, writing a letter to a dead girl. Where do I start? Where did our story begin? From the moment you were born...or died?
I'll start with the moment I found out the truth about you. Your lies and my pain. Because it always begins and ends with you.
And that end began when Rafe Lawrence came back to town...
Ava Hale will do anything to find her sister's killer...although she'll wish she hadn't. Because the harder Ava looks, the more secrets she uncovers about Kesley, and the more she begins to think that the girl she called sister was a liar. A sneak. A stranger.
And Kesley's murderer could be much closer than she thought...
A debut novel from Wattpad award-winner Kara Terzis, Frayed is a psychological whodunit that will keep you guessing!
Frayed is a hard book to review because while it was a good book at times, at others is was completely fantastical and unrealistic yet I still read on curious to know the answers to all the mystery that surrounded Kelsey's death.
The characters were very hard to like or feel anything for and yet you couldn't help be fascinated by them. Longing to know what exactly their role was in everything that had transpired. Sometimes predictable but still enough mystery to garner turning the pages and finding out more, this was definitely a read like no other, good or bad.
With an intriguing premises, a different bizarre outcome and ending, this was definitely a book that took me by surprise and not always in a good way.
Overall it wasn't a bad read but it wasn't a great read either. It was entertaining at times and the plot was unpredictable enough that I didn't always see the outcome coming. All in all, an average read for the genre but one I think many will both like and dislike the same.
*All thoughts and opinions are my own and were not influenced by the author or publisher. I was not compensated for this review.*