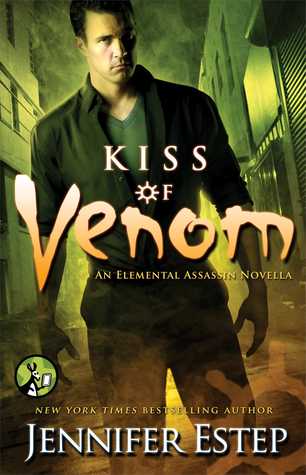 Title: Kiss of Venom
Author: Jennifer Estep
Series: Novella 8.5 in the Elemental Assassin Series
Published By: Pocket Star (June 22, 2013)
Source: Purchased
Genre: Urban Fantasy
My Rating: 4 Stars!
Book Description:
The New York Times bestselling Elemental Assassin series continues with a new e-novella—from the hero's point of view! Owen Grayson is bound and determined to get Gin back...if her enemies don't get her first.
When you have a history of dating an assassin, a night out on the town can turn deadly—fast. Owen Grayson is still wracked with guilt over the end of his love affair with Gin Blanco, and there aren't enough gin and tonics in all of Ashland to ease his heartache. But when Gin happens to show up at the same nightclub, he isn't the only one hoping to get her alone. Some shadowy figures will do anything to take down the Spider, Gin's assassin alter ego, and Owen will do anything to protect her. This could be the way to win her back, or at least give her a night off from fighting for her life—if Owen can survive...
I have a confession to make, me, the queen of not skipping books in series or reading out of order, read this out of order,
But, in my defense, I couldn't resist. I mean, hello, a book told all in Owen's point of view? How can anyone resist that. And besides, the spoilers that this book held for books six and seven and maybe even eight, I already had some idea of so, why not take the chance and do it anyway right?
Honestly, I can say now that I have read this, it was worth it to read it not only out of order but to get Owen's side of things before reading Gin's. I think this way, I will not only be more prepared for the heartache that is to come, but I won't hate anyone because of it.
So yes, those are my excuses for skipping slightly ahead with this one and I'm sticking with them.
Honestly though, this was a fabulous novella like they all are in this series and I'm so glad we got this much needed, much appreciated look into Owen.