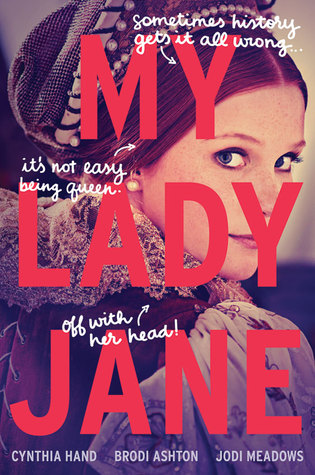 Title: My Lady Jane
Author(s): Cynthia Hand, Brodi Ashton, Jodi Meadows
Series: Stand Alone
Published By: Harper Teen (June 7, 2016)
Source: ARC Copy Provided by the Publisher
(in exchange for an honest review)
Genre: YA Historical (with a twist)
My Rating: 4 Stars!
Book Description:
For fans of The Princess Bride comes the comical, fantastical, romantical, (not) entirely true story of Lady Jane Grey.
Lady Jane Grey, sixteen, is about to be married to a total stranger—and caught up in an insidious plot to rob her cousin, King Edward, of his throne. But that's the least of Jane's problems. She's about to become Queen of England. Like that could go wrong.
I already knew liking this novel wasn't going to be hard, I mean, with a line up of brilliant authors like this one has, how could anyone not like it right?
What I was expecting, was to fall in love without even having finished the prologue. Yep, seriously, so. Much. Fun.
Truly a tragic tale retold, re-imagined, and with so many other news, it will make your head spin in the very best ways.
Told in the point of views of both Jane, "G", and Edward, this was such a hoot. Witty, entertaining, (somewhat) historic, and always interesting, these authors know how to retell them.
*All thoughts and opinions are my own and were not influenced by the author or publisher. I was not compensated for this review.*