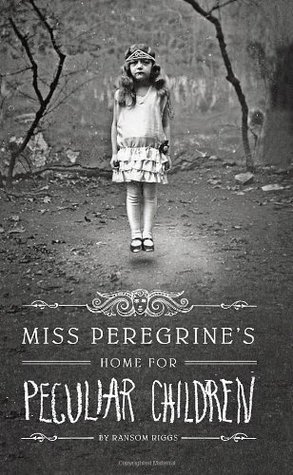 Title: Miss Peregrine's Home For Peculiar Children
Author: Ransom Riggs
Series: Book One in the Series of the Same Name
Published By: Quirk (June 7, 2011)
Source: Purchased
Genre: YA Fantasy
My Rating: 4 Stars
Book Description:
A mysterious island. An abandoned orphanage. A strange collection of curious photographs.
A horrific family tragedy sets sixteen-year-old Jacob journeying to a remote island off the coast of Wales, where he discovers the crumbling ruins of Miss Peregrine's Home for Peculiar Children. As Jacob explores its abandoned bedrooms and hallways, it becomes clear that the children were more than just peculiar. They may have been dangerous. They may have been quarantined on a deserted island for good reason. And somehow—impossible though it seems—they may still be alive.
A spine-tingling fantasy illustrated with haunting vintage photography, Miss Peregrine's Home for Peculiar Children will delight adults, teens, and anyone who relishes an adventure in the shadows.
This year I have made it my goal to pay more attention to my TBR pile and to read those books that I have been dying to start and to try those new authors that everyone is raving about but I never seem to have the time for.
Which brings me to Ransom Riggs and the creepy covers that are his books.
When I first saw Miss Peregrine's Home for Peculiar Children I was immediately drawn to it. Not only was the cover creeptastic and unusual but the synopsis drew me right in. I love this genre but let's face it, it is riddled with the same thing being done numerous times over. So when something stands out, you can bet I'm paying attention and taking note.
And this was unusual, in almost every sense of the word.
With a slow start I wasn't sure I was going to be able to really get into this but pushing forward and not giving up, about 30% in is when the magic began to happen and my attention was captured and held.
Riggs did an amazing job bringing a rag tag team of misfits together and fighting for one cause, all set in a world like our own but unlike anything done before in quite the same way.
Imaginative, fun, and yes, unusual, this is one book that once it picked up and the adventure begun, was truly hard to put down.