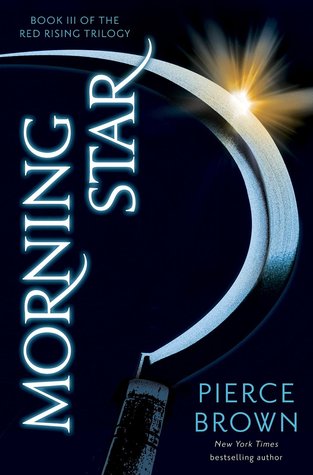 Title: Morning Star
Author: Pierce Brown
Series: Book Three in the Red Rising Trilogy
Published By: Del Rey (February 9, 2016)
Source: Purchased
Genre: YA/NA Sci Fi/Dystopian
My Rating: 5 Stars!
Book Description:
Darrow would have lived in peace, but his enemies brought him war. The Gold overlords demanded his obedience, hanged his wife, and enslaved his people. But Darrow is determined to fight back. Risking everything to transform himself and breach Gold society, Darrow has battled to survive the cutthroat rivalries that breed Society's mightiest warriors, climbed the ranks, and waited patiently to unleash the revolution that will tear the hierarchy apart from within.
Finally, the time has come.
But devotion to honor and hunger for vengeance run deep on both sides. Darrow and his comrades-in-arms face powerful enemies without scruple or mercy. Among them are some Darrow once considered friends. To win, Darrow will need to inspire those shackled in darkness to break their chains, unmake the world their cruel masters have built, and claim a destiny too long denied - and too glorious to surrender.
It isn't often that an author can manage to break my heart within the first few pages of a book, but Pierce Brown managed it, and quite successfully too.
I knew going into this, a series that has quickly become not only a favorite but something "more" would be an emotional one. But after those first few chapters, I knew I was seriously in for a ride for my life and would be nearly impossible to keep my emotions in check. A ride that, more than likely, would tear out my heart and laugh in my face at what it had done, and not just once but numerous times along the journey.
Darrow is not the same man as the first book, nor the same as the second. Instead this mish mesh of both books combined. He isn't as fierce or strong physically and not even mentally at times but instead more quiet, thoughtful and even fearful.
So much has happened, so much has changed, and not only with the world, and the universe, but with the Sons of Ares and with the Reaper as well. Some changes are good, some are bad.
Some new friendships are forged, some old repaired, and some lost forever.
This was such an emotional ride. One that was hard to stomach at times, hard to put down, and one that left me breathless numerous times along the way. Teary eyed, smiling, fearful, and always emotional, this was an amazing conclusion to the series. I am so sad it is is all over but very excited about the way it all came together.