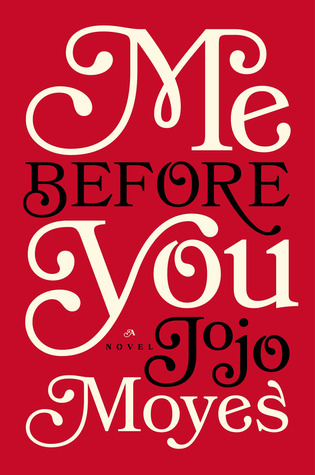 Title: Me Before You
Author: Jojo Moyes
Series: Book One in the Me Before You Duology
Published By: Viking (December 31, 2012
Source: Borrowed
Genre: Contemporary
My Rating: 4 Stars!
Book Description:
Lou Clark knows lots of things. She knows how many footsteps there are between the bus stop and home. She knows she likes working in The Buttered Bun tea shop and she knows she might not love her boyfriend Patrick.
What Lou doesn't know is she's about to lose her job or that knowing what's coming is what keeps her sane.
Will Traynor knows his motorcycle accident took away his desire to live. He knows everything feels very small and rather joyless now and he knows exactly how he's going to put a stop to that.
What Will doesn't know is that Lou is about to burst into his world in a riot of colour. And neither of them knows they're going to change the other for all time.
It is so very hard to write a review for this book, awhile I've waited days now, after finishing it, to even begin, I still find myself at a loss as what to say and how to feel.
On one hand, this was a beautiful story and on the other, heartbreakingly sad and tragic and the two are warring, desperately, over which emotion will win out in the end.
I've debated on what to say, how to say it, and even if it is worth it to bother writing a review but it comes down to this, I did love this book. In all its heartbreak, and truth, and realism, I still loved it and am so very glad that I read it and that is what you need to know most.
This book is worth your time. It is worth the tears, and the heartache, and even the smiles, and sometimes laughter.
It was beautifully written, beautifully done, and said, and told. A story that might make you mad or sad or anything imaginable in between. One that you won't regret reading, and savoring, and experiencing and when it comes down to it, good or bad, isn't that why we read these type of reads to begin with? To feel? To experience? To know? To understand, if only for a moment, even if we don't agree or see eye to eye or want the ending that we received?