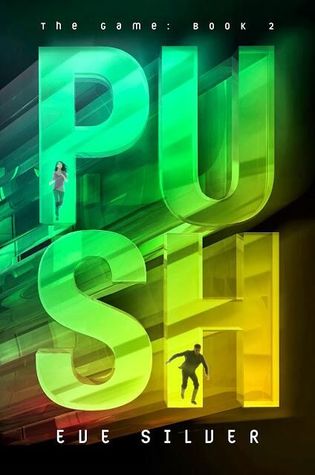 Title: Push
Author: Eve Silver
Series: Book Two in The Game Series
Published By: Katherine Tegen Books (June 10, 2014)
Source: ARC Copy Provided by the Publisher
(in exchange for an honest review)
Genre: YA Fantasy/Sci Fi
My Rating: 4 Stars!
Book Description:
It's either break the rules or die.
Miki Jones lives her life by her own strict set of rules, to keep control, to keep the gray fog of grief at bay. Then she's pulled into the Game, where she—and her team—will die unless she follows a new set of rules: those set by the mysterious Committee.
But rules don't mean answers, and without answers, it's hard to trust. People are dying. The rules are unraveling. And Miki knows she's being watched, uncertain if it's the Drau or someone—something—else. Forced to make impossible choices and battling to save those she loves, Miki begins to see the Committee in a glaring new light.
And then the Game crosses a new boundary, pushes harder into Miki's and her friends' lives, and there's nothing in the rules that can save them now.
Push is the sequel Rush fans will be screaming for.
Rush was a read that took me by surprise last year, a read that totally threw me for a loop with how much I loved it and how quickly I devoured it. I just couldn't get enough of the gaming world and crazy sci fi edge that the world Silver created bared. For someone who like me, this totally isn't her thing, I was completely blown away with how much I loved this story and wanted more.
When Push came out I jumped at the chance to snatch it up and dive right back into the alternate reality and world that faced Miki. With the cliffhanger ending that was Rush, I was dying to know the what ifs and the meant to be-s.
I freaking loved this. It was everything I came to expect and love in Rush, amplified. The game more dangerous, the enemy more cunning, the Counsel more mysterious and frustrating and the stakes higher.
I don't even want to say too much because I don't want to give anything away but just know that this was so much..more. Silver upped the anti with this one. It I face paced, filled with action and there is never a dull moment.
Secrets are told, friends turn enemy, bonds are formed, and danger lurks around every corner, even in the real world, even outside the game.
Miki is stronger and growing more confident in her abilities and in trusting others and letting them in and I loved every stinkin' minute of her growth.
I never thought I would say this but I love the world Silver created, the premises, the beings, the unknown. This girl who never was a gamer, suddenly wants to be one and I love it. I love that the author gave me that excitement and love.
Way to go Silver. Can't wait for more!
*All thoughts and opinions are my own and were not influenced by the author or publisher. I was not compensated for this review.*