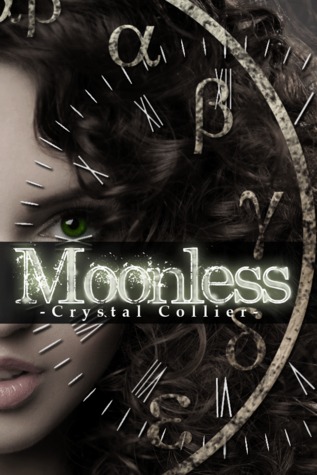 Title: Moonless
Author: Crystal Collier
Series: Book One in the Maiden of Time Series
Published By: Raybourne Publishing (Jan. 14, 2014)
Source: Copy Provided by the Publisher
(in exchange for an honest review)
Genre: YA Fantasy
My Rating: 3.5 to 4 Stars!
Book Description:
MOONLESS is Jane Eyre meets Supernatural.
In the English society of 1768 where women are bred to marry, unattractive Alexia, just sixteen, believes she will end up alone. But on the county doorstep of a neighbor's estate, she meets a man straight out of her nightmares, one whose blue eyes threaten to consume her whole world—especially later when she discovers him standing over her murdered host in the middle of the night.
Among the many things to change for her that evening are: her physical appearance—from ghastly to breathtaking, an epidemic of night terrors predicting the future, and the blue-eyed man's unexpected infusion into her life. Not only do his appearances precede tragedies, but they are echoed by the arrival of ravenous, black-robed wraiths on moonless nights.
Unable to decide whether he is one of these monsters or protecting her from them, she uncovers what her father has been concealing: truths about her own identity, about the blue-eyed man, and about love. After an attack close to home, Alexia realizes she cannot keep one foot in her old life and one in this new world. To protect her family she must either be sold into a loveless marriage, or escape with the man of her dreams and risk becoming one of the Soulless.
I picked this one up on a whim. I really liked the cover and the description grabbed me right from the start and lets face it, I am a sucker for anything set in the 18th century and I won't lie, the reference to Jane Eyre was one that piqued my interest, it so happens to be one of my favorite stories by Bronte and even though I wouldn't say this was anything like the plot of Jane, it did have the same feel as Jane. That almost gothic darkness that makes you simultaneously feel somewhat dark and moody and just a little bit broody while still immersing you in a beautiful world.
And just like a good Bronte read, this moved slowly with lots of setting and descriptive writing. I loved the atmospheric setting and the characters were intriguing. The author set this up so we get small glimpses into both Alexia and Kiren's point of view and just enough of a hint at what was going on with them that it left you begging for more. In fact it could be frustrating at times. I wanted it all and I wanted it all right this minute.
Even with the slow sometimes frustrating start and world building when this did decide to pick up the pace I found myself unable to put it down and completely immersed in the story.
By the time the last chapter was in front of me I found that I was really enjoying the story and didn't want it to end.
The author has a way of capturing your attention without you even being aware she has until before you know it the story is over and you are completely surprised it is.
I will definitely be picking up book two to see how the story continues.
*All thoughts and opinions are my own and were not influenced by the author or publisher. I was not compensated for this review.*