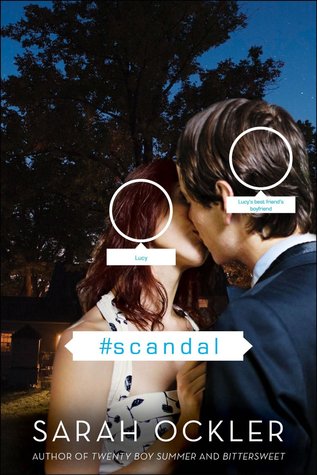 Title: #scandal
Author: Sarah Ockler
Series: Stand Alone
Published By: Simon Pulse (June 17, 2014)
Source: ARC Copy Provided by the Publisher
(in exchange for an honest review)
Genre: YA Contemporary
My Rating: 3 Stars
Book Description:
Lucy's learned some important lessons from tabloid darling Jayla Heart's all-too-public blunders: Avoid the spotlight, don't feed the Internet trolls, and keep your secrets secret. The policy has served Lucy well all through high school, so when her best friend Ellie gets sick before prom and begs her to step in as Cole's date, she accepts with a smile, silencing about ten different reservations. Like the one where she'd rather stay home shredding online zombies. And the one where she hates playing dress-up. And especially the one where she's been secretly in love with Cole since the dawn of time.
When Cole surprises her at the after party with a kiss under the stars, it's everything Lucy has ever dreamed of… and the biggest BFF deal-breaker ever. Despite Cole's lingering sweetness, Lucy knows they'll have to 'fess up to Ellie. But before they get the chance, Lucy's own Facebook profile mysteriously explodes with compromising pics of her and Cole, along with tons of other students' party indiscretions. Tagged. Liked. And furiously viral.
By Monday morning, Lucy's been branded a slut, a backstabber, and a narc, mired in a tabloid-worthy scandal just weeks before graduation.
Lucy's been battling undead masses online long enough to know there's only one way to survive a disaster of this magnitude: Stand up and fight. Game plan? Uncover and expose the Facebook hacker, win back her best friend's trust, and graduate with a clean slate.
There's just one snag—Cole. Turns out Lucy's not the only one who's been harboring unrequited love...
I love Ockler's writing. Her stories are always so endearing and her character even more so. They are made of the stuff I love. And while this one had a very different feels from her usual reads, I still enjoyed the heck out of this one.
These are the coming of age stories you wouldn't mind your preteen or teen reading. Ones that are heartfelt and true and hold so much meaning and so much growing.
The authors take on social media and high school life, I think, is in fact very realistic. It seems so much can be done, so much can be shown, ruined, and destroyed with the click of a button, an upload, or a very few choice words.
Lucy is a great girl, she is a hard core, knock your socks of gamer and she loves her zombies, she also happens to love Cole and her best friend. What she doesn't love is the fact that the love of her life Cole, happens to be with that same best friend.
When she finally sees her chance to go for it with him is when it all falls apart. It is when a picture really is worth a thousand words and she learns that life and her peers can be cruel and hard and unforgiving.
I wish I could say the romance was a focus in this story, and while the scandal was, Cole was not. In fact we see very little of him but what we do see, we can't help but love. We can understand why Lucy wants him and why she would risk it all to be with him.
Like I mentioned above, this is a lot different than most Ockler books, there is a lot going on, a scandal, a mystery, some romance, a friendship on the brink of breaking up, and some serious detective work underway. It is a lot to take in and a lot to process. It isn't chaotic so much as instead of focusing on Lucy's love of Cole and her friendship with Emily, this steers more towards social media and hunting down the person that stole Lucy's phone and posted the pictures to begin with, the person who wants to sabotage everything she has.
It was nice watching Lucy come out of her comfort zone without changing who she was. She stays strong to what she believes and to what she thinks is right. There are a lot of subtle messages that, if you aren't paying attention, you just might miss. Good messages about staying true to yourself and going after what you want in life without causing those around you harm.
This was a fun take on the affects of social media in the lives of our younger generation and of course, a good coming of age story. Maybe not a favorite but still a really good one that I think most fans will still really enjoy.
*All thoughts and opinions are my own and were not influenced by the author or publisher. I was not compensated for this review.*