I am pleased to have author Maria Schneider here today to talk about her latest release in her Dragon of Wendal series, Dragonkin.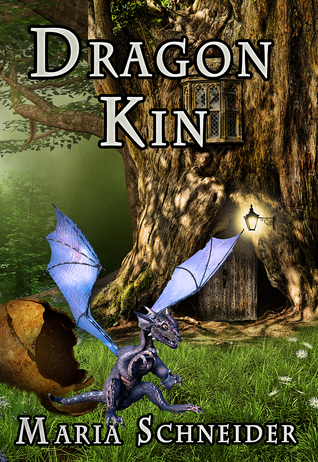 Sequel to Dragons of Wendal
Book Description:
Drissa needs a place to hide, and she needed it yesterday. Wendal, with its rumors of inhospitable shifters, unknown terrain and wild magic, is not a territory many want to explore, making it the perfect place to disappear. Now, the last thing Drissa needs is to adopt more trouble, but what can she do when it hatches at her feet and then insists she drag it and a half-dead stranger to safety? But she'll do whatever is necessary to survive, because her younger sister can't wait forever to be rescued. Of course, Wendal and its inhabitants aren't necessarily interested in her long-term plans or her survival.
*Amazon*Barnes and Noble*
About the Author:
Maria saw her first dragon while gardening. She asked the gnome to take pictures, but dragons are shy and very fast. One of the fairies finally snapped a shot, but just as she handed it over, the dragon came by and flamed it to ashes! Neither of us wants to get our fingers burned a second time so, sadly, there will not be pictures any time soon!
Are there Dragons in Heaven?
When authors and readers get to heaven, do you suppose there's any chance that we'll get to meet our favorite characters? I've certainly written about enough ghosts so they must be hanging around heaven somewhere. There's several spooks in Tracking Magic and more than one in the Moon Shadow series. But. My latest series, Dragons of Wendal and DragonKin...Yeah, I'd love to hang out with Spark the DragonKin. We could fly about heaven, me with angel wings (I will TOO have a halo!!! It might be tarnished a tad, but it'll work. *Straightens halo and polishes it with sleeve*) and Spark being a dragon already has wings. I suppose if I have to earn my wings, Spark might consent to fly me about.
To be honest, I'm not entirely certain I need to meet Lindis the Dragon. She's kind of bad-ass, and I'd rather not tangle with her sword or talons. She's a nice enough sort if you aren't standing on the wrong side of the battlefield. Usually.
And I'd like to meet not just my own characters, but a few others. There's Lou, the dog, from John Levitt's urban fantasy series. I'd probably like to meet Mason himself, but the guy kind of attracts problems. Maybe it's not his fault, but if we meet, I'm bringing a weapon or two and will make CERTAIN that Spark can fly me out at a moment's notice.
I'd like Spark the DragonKin to meet the unicorn in Jeanette Cottrell's Unicorn on Speed Dial because that was one cool unicorn. Heck, I'd like to meet ANY unicorn, a gargoyle, a couple of gnomes, and I'd love to provide room and board for a brownie while I'm still here on earth because I hear they are excellent at keeping a place clean and tidy. Come on OVER. I keep chocolate in twenty pound bags, ready to be baked, eaten, melted, sauteed, you name it!
I already have fairies in my garden, but I hope they are in heaven too!
So, who would you like to meet in heaven???
Maria is the author of several novels; DragonKin is her latest. It is the second book in the Dragons of Wendal series. Both books are cozy fantasy, romantic adventures.
Don't forget to check you the first book in the series as well, Dragons of Wendal
Published Date: June 21, 2012
Learning new magic isn't as easy as Zoe expected, especially when the mages at Gorgon University seem dead set against teaching. Add in some necessary late-night sneaking about, and Zoe is almost certain to be kicked out. As for exploring the intriguing mysteries across the border in Wendal, well, it has more teeth than she ever imagined.