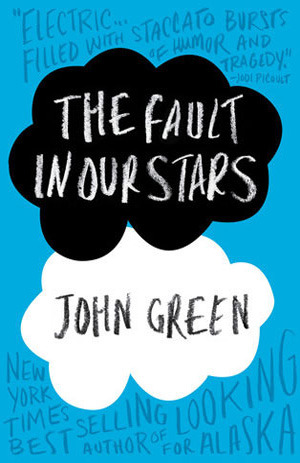 Title: The Fault In Our Stars
Author: John Green
Series: Stand Alone
Published By: Dutton Books (January 1, 2012)
Source: Purchased
Genre: YA Contemporary
My Rating: 4 Stars!
Book Description:
Despite the tumor-shrinking medical miracle that has bought her a few years, Hazel has never been anything but terminal, her final chapter inscribed upon diagnosis. But when a gorgeous plot twist named Augustus Waters suddenly appears at Cancer Kid Support Group, Hazel's story is about to be completely rewritten.
I knew reading this book was going to be ugly, ugly as in REALLY ugly.
No, no, not the story or the writing, those were beautiful. Beyond beautiful really, they were gorgeous.
No, the ugliness came all from me. Ugly as in, now my eyes are red and swollen and my face is a mess and I may have gone through a whole box of tissues and yet still managed to chock out a laugh every now and then ugly.
Gosh I loved this story, because after all, as the story goes, pain, is meant to be felt.
What does one say about a masterpiece?
I loved Augustus, I loved Hazel and I would like to believe that I am a better person because of them. Because I was able to read their story, to share in their love for one another.
I still can't really express all I felt while reading this story or all the I feel now that it is over other than to tell you, it was a beautiful one to behold. An emotional one and one I do not regret reading, not for a minute, ugly tears or not. Swollen eyes or not.
Thank you John Green for writing something so poignant and wonderful.
*All thoughts and opinions are my own and were not influenced by an outside source. I was not compensated for this review.*