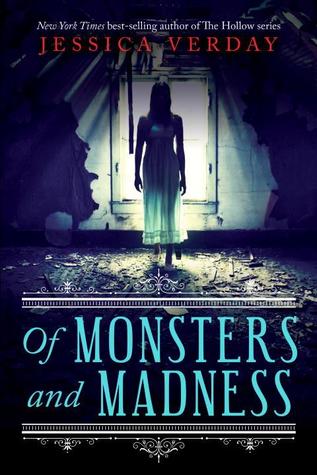 Title: Of Monsters and Madness
Author: Jessica Verday
Series: Stand Alone
Published By: EgmontUSA (September 9, 2014)
Source: ARC Copy Provided by the Publisher
(in exchange for an honest review)
Genre: YA Historical Retelling
My Rating: 4 Stars!
Book Description:
A romantic, historical retelling of classic Gothic horror featuring Edgar Allan Poe and his character Annabel Lee, from a New York Times best-selling author.
Summoned to her father's home in 1820's Philadelphia, a girl finds herself in the midst of a rash of gruesome murders in which he might be implicated. She is torn romantically between her father's assistants-one kind and proper, one mysterious and brooding-who share a dark secret and may have more to do with the violent events than they're letting on.
I love a good dark, slightly twisted tale and that is exactly what Verday has crafted in Of Monsters and Madness.
A dark morbid tale of a classic Poe story. A story about his beloved Annabel Lee.
Few people know this about me but in high school I went through this very weird fascination with all things Poe's . I couldn't get enough of it. I devoured them and consumed them like crazy as I was thrown into his madness and his genius. There was always something so dark and sinister and yet so very sad about his stories that I couldn't help but wonder about the man behind them. What his life must have been like. How tortured his soul must have been. How heartbreaking his stories turned out to be and how vivid and rich they were.
I absolutely loved this Dr. Jekyll and Mr. Hyde take of insane characters. Never knowing who was really mad and who was just a genius. I devoured it, I ate it up and instead of loathing the monsters, I loved them and couldn't get enough of them.
I had no idea this was going to be part of a series but that ending left me wanting more. I wasn't ready to escape Annabel Lee's life, the horrors, the heartbreak and of course, the madness. I am so looking forward to the next installment.
We all need a little horrific madness of a read in our life once in a while and Verday delivered.
*All thoughts and opinions are my own and were not influenced by the author or publisher. I was not compensated for this review.*