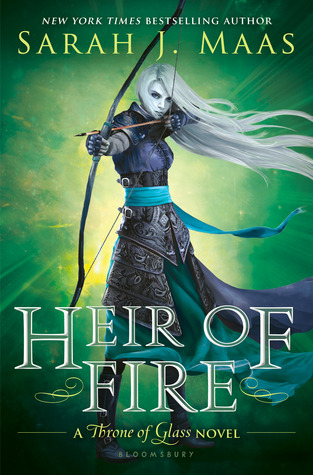 Title: Heir of Fire
Author: Sarah J. Maas
Series: Book Three in the Throne of Glass Series
Published By: Bloomsbury USA Children's (September 2, 2014)
Source: ARC Copy Provided by the Publisher
(in exchange for an honest review)
Genre: YA Fantasy
My Rating: 5 Stars!
Book Description:
Lost and broken, Celaena Sardothien's only thought is to avenge the savage death of her dearest friend: as the King of Adarlan's Assassin, she is bound to serve this tyrant, but he will pay for what he did. Any hope Celaena has of destroying the king lies in answers to be found in Wendlyn. Sacrificing his future, Chaol, the Captain of the King's Guard, has sent Celaena there to protect her, but her darkest demons lay in that same place. If she can overcome them, she will be Adarlan's biggest threat – and his own toughest enemy.
While Celaena learns of her true destiny, and the eyes of Erilea are on Wendlyn, a brutal and beastly force is preparing to take to the skies. Will Celaena find the strength not only to win her own battles, but to fight a war that could pit her loyalties to her own people against those she has grown to love?
We all have those series that we love unconditionally. That we build up so much in our minds that by the time the next book is released you start to wonder if anything truly is as great as you remember it to be. If this next book will live up to all the expectations you have built up .
By the time the next book is in your hands, you can't help but worry that is won't. Doubts start to creep in and you can't help but open those first few pages with just a little bit of anticipation mixed in with a whole lot of nerves.
Is Maas really the master storyteller that I believe her to be?
And the answer to that of course is, why yes. Yes, she is.
Once again this is told in multiple point of views with different story arcs, more so than the others ever have been but, once again, Maas pulled it off beautifully. It flowed effortlessly.
So many new characters to adore and love. Rowan, Marion, Abraxos (don't ask because I couldn't tell you but for some reason the creature wormed his way in too), Aedion, Emrys and yes maybe even Manon (okay maybe not into my heart but in...some how). Too many maybe to name.
So many angles, so many heirs, so many possibilities.
Did I mention I adore this series? It is by far not only my favorite fantasy series ever but my favorite YA series ever. I think during parts of this, my heart truly broke for Celaena and during others, I was there, cheering her on and smiling at her triumphs and celebrating right along side her. So much happens in this that I wouldn't even know where to begin to explain but I will say this, if you haven't started this series yet, do it. Do it now. You won't regret it at all, not for a moment.
It is one of those fabulous series that hooks you and refuses to let go. One you think about long after the story has been put down and one that will capture your attention, love, and affection how ever it can.
*All thoughts and opinions are my own and were not influenced by the author or publisher. I was not compensated for this review.*