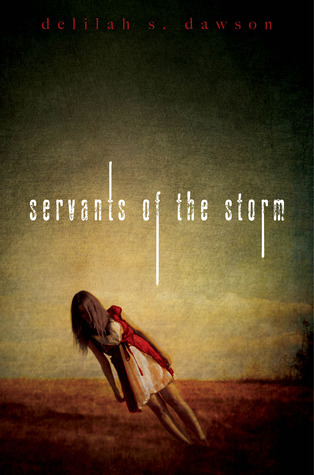 Title: Servants of the Storm
Author: Delilah S. Dawson
Series: Stand Alone
Published By: Simon Pulse (August 5, 2014)
Source: ARC Copy Provided by the Publisher
(in exchange for an honest review)
Genre: YA Fantasy
My Rating: 2.5 Stars
Book Description:
A year ago Hurricane Josephine swept through Savannah, Georgia, leaving behind nothing but death and destruction — and taking the life of Dovey's best friend, Carly. Since that night, Dovey has been in a medicated haze, numb to everything around her.
But recently she's started to believe she's seeing things that can't be real ... including Carly at their favorite cafe. Determined to learn the truth, Dovey stops taking her pills. And the world that opens up to her is unlike anything she could have imagined.
As Dovey slips deeper into the shadowy corners of Savannah — where the dark and horrifying secrets lurk — she learns that the storm that destroyed her city and stole her friend was much more than a force of nature. And now the sinister beings truly responsible are out to finish what they started.
Dovey's running out of time and torn between two paths. Will she trust her childhood friend Baker, who can't see the threatening darkness but promises to never give up on Dovey and Carly? Or will she plot with the sexy stranger, Isaac, who offers all the answers — for a price? Soon Dovey realizes that the danger closing in has little to do with Carly ... and everything to do with Dovey herself.
I wasn't sure about this one going in to it but that darn cover and synopsis drew me in and before I knew it, I had this downloaded on my kindle and ready to go. I knew it was an adventure that I needed to take simply out of curiosity if nothing more.
And my first initial reaction to it was....this is so very strange, but in a really good way strange. Like, make me think and need to reread strange because, okay, yeah, that was just weird and I liked it, strange.
This wasn't at all what I thought it would be. This was a strange new world. A whole other dark side of Savannah and it was bizarre and eerie and completely drew you in. I had to keep turning the pages simply because I had to know what in the world was going on with Carly and her strange little town. The town that the tourists and even some of the residents didn't know existed, or at least weren't telling you about.
The dark almost New Orleans creepy hocus pocus feel to it, I got all of that and then a little more darkness thrown in for good measure.
I really need another adjective because I keep wanting to say it was strange but that really isn't telling you enough. It was unique. It was slightly macabre feeling. It was so very enthralling that even though I wasn't loving it, I was still turning the pages. I think it put a spell on me. One that didn't let up until the book was completed.
It was quite the wild ride into a horror house of demons and ghosts and spells and magic. One that was terrifying to behold and like a car wreck that you see on the side of the road, one you couldn't look away from as you flew through the town.
It was about finding answers and helping friends and loss and love and facing your problems head on and not hiding in the darkness anymore, even when it is so much easier sometimes than facing the light.
Like I mentioned before, I didn't love this read but I have to give the author credit for how imaginative it was and how it kept me guessing right up until the very end about whether anything Carly was seeing and hearing was even happening. To be honest, I am still not 100% sure that it wasn't all in her head but...it is the unsurity that kept me thinking about it long after I was done reading.
*All thoughts and opinions are my own and were not influenced by the author or publisher. I was not compensated for this review.*