Welcome to my stop on for the Big Fix blog tour. I have to say, this is one of my favorite UF series out there. It is chocked full of all the things I love most in UF, to funny characters, mystery, a great family dynamic, and fantastic writing, it really does have it all. And to top it all off, it has a wonderful friend based romance that is every bit as hard to resist as it is steamy.
I'm so excited that we have Linda here today to talk to us a little bit about this steamy romance as well and about the potential romance this series has to offer.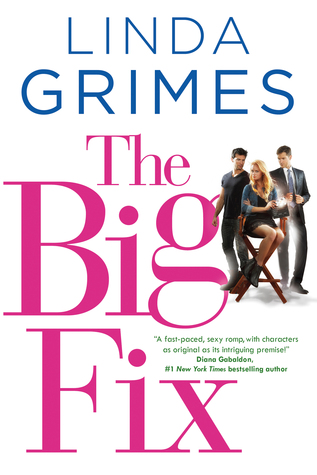 Title: The Big Fix
Author: Linda Grimes
Series: Book Three in the In A Fix Series
Published By: Tor Books (May 12, 2015)
Source: Copy Provided by the Publisher
(in exchange for an honest review)
Genre: Urban Fantasy
Book Description:
Aura adaptor extraordinaire Ciel Halligan, who uses her chameleon-like abilities to fix her clients' problems—as them—is filling in on set for action superstar Jackson Gunn, whose snake phobia is standing in the way of his completing his latest mega-millions Hollywood blockbuster. There's only one thing Jack fears more than snakes, and that's the possibility of his fans finding out he screams at the sight of one. Going from hero to laughing stock isn't part of his career plan.
Seems like a simple enough job to Ciel, who doesn't particularly like snakes, but figures she can tolerate an afternoon with them, for the right price—which Jack is offering, and then some. What she doesn't count on is finding out that while she was busy wrangling snakes for him, his wife was busy getting killed. When Ciel goes to break the sad news to the star, she finds out Jack was AWOL from her client hideaway at the time of the murder.
Ciel begins to suspect Jack's phobia was phony, and that he only hired her to provide him with an alibi—but if she goes to the police, she'll have to explain how she knows he wasn't really on set. Up against a wall, Ciel calls on her best-friend-turned-love-interest Billy, and her not-so-ex-crush Mark, to help her set up the sting of a lifetime.
Guest Post:
Musings on Triangles
Love triangles are tricky things. In books, anyway. Especially in my books, where the characters can never be entirely certain the person they're with is actually the person they think they're with, aura adaptors having the ability to project the appearances of other people and all. Things can get confusing, to say the least.
Other than my books, and a random trigonometry class or two, I myself have no experience with triangles. I've been married for a gazillion years to the love of my life, and that's just the way I like it. Of course, my husband is a Gemini, the sign of the twins, so maybe, in a way, my whole marriage qualifies. Hmm…I believe I may have stumbled into the world's most socially acceptable love triangle! And, trust me, it's way more fun than trig class.
But back to books. I think, even for the strictly monogamous-in-real-life types, there's something seductive about the idea of a triangle on the page. Nothing ups the conflict in whatever you're reading like some good old angsting about that kind of decision. Sure, it might get uncomfortable at times, but the heightened tension (and not only sexual, either) can result in a bigger payoff for the average reader. Smooth sailing might be wonderful in reality, but it gets a little monotonous in fiction.
That said, you don't want the triangular tension to stretch out for so long that the reader becomes numb to it. The "yeah, yeah, whatever, just choose already" reaction is not what a writer wants. Ultimately, I think it becomes a balancing act. As long as you keep the interactions among the trio in question fresh and inventive, and don't keep rehashing the same ol', same ol', I think it's a valid plot device.
Plus, from an author's perspective, I have to admit it's just plain fun to torture your characters with difficult choices. To throw them into … um, interesting situations, shall we say? … and watch them try to work it out. My main character, Ciel, has—she thinks—made her decision, but that doesn't mean life (AKA, me) can't throw her a relationship curveball every now and then. Sadistic on my part? Possibly. But also highly entertaining. (Hey, if the author isn't entertained while writing, the readers won't be entertained while reading. When you look at it that way, I'm actually nice, not cruel.)
I've been known to ask my readers if they prefer Billy or Mark. And, yeah, I do kind of love it when they tie themselves in knots defending their choice. (See above about "sadistic.") But recently I've been asked which one of the guys I prefer, not as an author, but as a woman.
Whoa. Way to turn the tables on me. Thanks a lot, @kindlemom1!
*Coughs, clears throat, shuffles feet* Um, I guess … I mean, I suppose … Okay, honestly? It depends on the day. On my mood. On which way my hormones are swinging. Sometimes I'm Billy all the way—there's just something about his humor that hits my sweet spot—but other times Mark elbows his way in with his annoyingly attractive alpha charms. (Yeah. You can see why I married a Gemini.)
But mostly I root for Ciel to wind up with the guy who's right for her. Eventually. After I'm through messing with her head. Bwah-ha-hah! (Huh. I should probably do something about that sadistic streak…)
About the Author:
Linda grew up in Texas, where she rode horses, embarrassed herself onstage a lot, and taught teenagers they'd have to learn the rules of English before they could get away with breaking them for creativity's sake. She currently resides in Virginia with her husband, whom she snagged after he saw her in a musical number at the now defunct Melodrama Theater in San Antonio. (There's nothing like a rousing chorus of "If You Wanna Catch a Fish You Gotta Wiggle Your Bait" to hook a man for a lifetime.)
Like IN A FIX's globetrotting main character, aura adaptor Ciel Halligan, Linda has spent her fair share of time overseas, though fortunately under less stressful circumstances. Kidnapping and daring rescues are all well and good in fiction, but she prefers sanity in her real life.
You never realize how much you miss certain characters until you finally get to meet up with them again.
Filled with witty one liners, humorous situations, action packed mystery and a storyline that is truly unique, it is no wonder that time and again, this series has made my best reads list each year it has come out.
Grimes has truly created something fun, engaging, intense and truly imaginative. With characters that are every bit as quirky as they are loyal.
Ciel and her friends are truly what make this series so much fun to read.
I loved every bit of this original take on urban fantasy, the mystery full of twists, and the romance that is every bit as steamy as it is swoon worthy.
.Add in the whole clan under Auntie's Mo and Ro reign and this truly is a delightful read that is every bit as family oriented as it is plot driven.
This once again kept me turning the pages, laughing out loud and constantly with a smile on my face, Grimes is a genius and her work should be commended. I adored this latest installment and it left me craving more.
*All thoughts and opinions are my own and were not influenced by the author or publisher. I was not compensated for this review.*