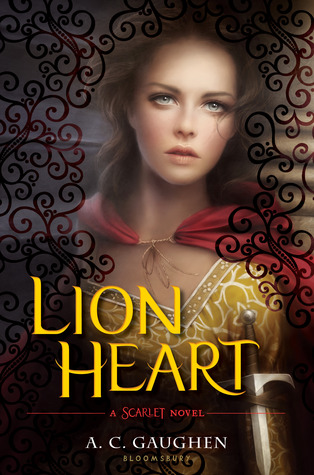 Title: Lion Heart
Author: A. C. Gaughen
Series: Book Three in the Scarlet Trilogy
Published By: Bloomsbury Children's (May 19, 2015)
Source: ARC Copy Provided by the Publisher
(in exchange for an honest review)
Genre: YA Historical
My Rating: 4.5 Stars
Book Description:
The eagerly-awaited conclusion to the Scarlet trilogy delivers another action-packed and romance-filled adventure.
Scarlet has captured the hearts of readers as well as the heart of Robin Hood, and after ceaseless obstacles and countless threats, readers will finally find out the fate of the Lady Thief.
Imprisoned by Prince John for months, Scarlet finds herself a long way from Nottinghamshire. After a daring escape from the Prince's clutches, she learns that King Richard's life is in jeopardy, and Eleanor of Aquitaine demands a service Scarlet can't refuse: spy for her and help bring Richard home safe. But fate—and her heart—won't allow her to stay away from Nottinghamshire for long, and together, Scarlet and Rob must stop Prince John from going through with his dark plans for England. They can not rest until he's stopped, but will their love be enough to save them once and for all?
I'm not sure I have ever been this excited nor this nervous for an ending to a trilogy. This trilogy has been one of my most favorites from the word go and when you love something so much, it is hard not to pick up the last book with tons of emotion.
Can I just tell you how much I have missed these characters and how very much I loved this book, this last, so sad to see it end, book? Because I did. I loved it all. The detail, the history, the characters, the plot, the action, the sweet romance, the everything and I really am so sad that that was it but so happy with the way it all ended and came together.
Gaughan did such an amazing job with this whole series. Intricately integrating fiction with fact and creating a retelling that was both unique and entertaining.
Scarlet isn't your average heroine, nor is she your average thief. She is cunning, smart, beautiful, passionate, fierce, and willing to die to save those she loves and her country. Willing to fight for land, love, and freedom like so many from this era.
All of the characters were phenomenal and I loved every single minute of their interactions. So many scenes brought tears to my eyes and made me smile that it was crazy. I have come to love all these characters so much and it was so great seeing so many things, so many good things for once, happen to, and for, so many of them. None of them have had it easy and they have all lost someone so to see some happiness, finally, was just..amazing.
This truly is hands down one of my favorite YA historical reads out there. We need more like this in this genre because it really is a stand out series with beautiful writing and fabulous characters.
I'm so happy with the way this ended, even if not everyone got what they had coming to them, this ended on such a high that it was all worth it. I am so sad that I now have to say goodbye to this world and the people in it. I will sorely miss them all.
*All thoughts and opinions are my own and were not influenced by the author or publisher. I was not compensated for this review.*