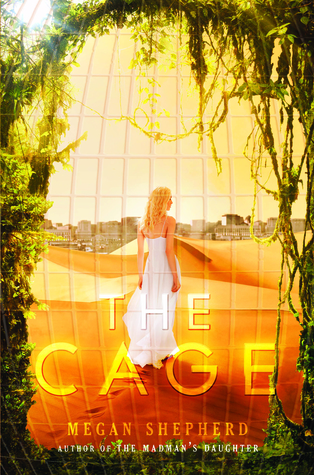 Title: The Cage
Author: Megan Shepherd
Series: Stand Alone (open ending for a second)
Published By: Balzer & Bray (May 26, 2015)
Source: ARC Copy Provided by the Publisher
(in exchange for an honest review)
Genre: YA Fantasy
My Rating: 3 Stars
Book Description:
The Maze Runner meets Scott Westerfeld in this gripping new series about teens held captive in a human zoo by an otherworldly race. From Megan Shepherd, the acclaimed author of The Madman's Daughter trilogy.
When Cora Mason wakes in a desert, she doesn't know where she is or who put her there. As she explores, she finds an impossible mix of environments—tundra next to desert, farm next to jungle, and a strangely empty town cobbled together from different cultures—all watched over by eerie black windows. And she isn't alone.
Four other teenagers have also been taken: a beautiful model, a tattooed smuggler, a secretive genius, and an army brat who seems to know too much about Cora's past. None of them have a clue as to what happened, and all of them have secrets. As the unlikely group struggles for leadership, they slowly start to trust each other. But when their mysterious jailer—a handsome young guard called Cassian—appears, they realize that their captivity is more terrifying than they could ever imagine: Their captors aren't from Earth. And they have taken the five teenagers for an otherworldly zoo—where the exhibits are humans.
As a forbidden attraction develops between Cora and Cassian, she realizes that her best chance of escape might be in the arms of her own jailer—though that would mean leaving the others behind. Can Cora manage to save herself and her companions? And if so . . . what world lies beyond the walls of their cage?
This a cover that is sure to catch the eye and draw you in, The Cage truly has a unique premises.
To say I liked this would be, well it wouldn't quite be enough and maybe more than enough all at the same time.
This was oddly alluring and I don't even know why exactly other than I was intrigued by the gorgeous cover and the promise of an original read that would keep me on my toes.
Constantly wondering if their captures were telling the truth or not about Earth and of course wondering whether the captees were all they seemed to be, The Cage truly did deliver in the are of unique and the strange.
Told in multiple point of views this book was interesting to say the least. While riddled with strife, forbidden romance, questions, danger, and always filled with the unknown, it was quite the read. Never quite believable but always on the verge of leaving you scratching your head and wondering, what if?
This is one of those stories that is hard to either like or dislike simply because it leaves you feeling unsure of how you feel after finishing it.
It won't be one I will forget reading but it won't be one I will ever remember in great detail having read either.
Overall, this was an okay read with an interesting premises, an open ending, and one that left me unsure of everything.
Fans of the genre and those looking for something out there will want to pick this one up simple so they can say that now, they have seen and read, it all.
*All thoughts and opinions are my own and were not influenced by the author or publisher. I was not compensated for this review.*