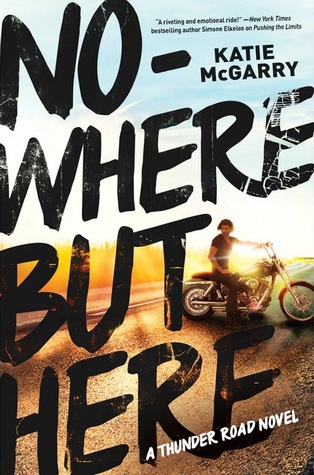 Title: Nowhere But Here
Author: Katie McGarry
Series: Book One in the Thunder Road Series
Published By: Harlequin Teen (May 26, 2015)
Source: ARC Copy Provided by the Publisher
(in exchange for an honest review)
Genre: YA Contemporary
My Rating: 5 Stars!
Book Description:
An unforgettable new series from acclaimed author Katie McGarry about taking risks, opening your heart and ending up in a place you never imagined possible.
Seventeen-year-old Emily likes her life the way it is: doting parents, good friends, good school in a safe neighborhood. Sure, she's curious about her biological father—the one who chose life in a motorcycle club, the Reign of Terror, over being a parent—but that doesn't mean she wants to be a part of his world. But when a reluctant visit turns to an extended summer vacation among relatives she never knew she had, one thing becomes clear: nothing is what it seems. Not the club, not her secret-keeping father and not Oz, a guy with suck-me-in blue eyes who can help her understand them both.
Oz wants one thing: to join the Reign of Terror. They're the good guys. They protect people. They're…family. And while Emily—the gorgeous and sheltered daughter of the club's most respected member—is in town, he's gonna prove it to her. So when her father asks him to keep her safe from a rival club with a score to settle, Oz knows it's his shot at his dream. What he doesn't count on is that Emily just might turn that dream upside down.
No one wants them to be together. But sometimes the right person is the one you least expect, and the road you fear the most is the one that leads you home.
After reading several of McGarry's book this spring I have come to the conclusion that McGarry can do no wrong.
Her books are full of characters that are easy to love, easy to care for, and more importantly, easy to relate to. While you might not be going through anything the characters are, you still can't help but feel for them, connect with them, and understand them. They have a way of burrowing deep underneath your skin and staying there. Always present in your thoughts and ones you won't soon forget.
She stole our hearts first with Noah and Echo and continued to do so over the course of her first series Pushing The Limits, and her new series, Thunder Road, is toeing the line of taking over and claiming our hearts, minds, and souls with Emily and Oz and the whole Reign of Terror family.
Once again she created engaging characters with hearts of gold that are far from perfect but still very much human and real in every way imaginable. Good to the core and so endearing it is hard not to get caught up in their world. In their struggles, triumphs, heartaches, and heartfelt moments.
A truly un-putdownable read that even at almost five hundred pages, wasn't nearly long enough.
McGarry once again shows us that she knows how to write and write them well with memorable characters, a fast moving plot, and life lessons that affect us all, this was another wonderful read from tMcGarry and proves to me again, why this author needs to be on everyone's auto-buy list.
*All thoughts and opinions are my own and were not influenced by the author or publisher. I was not compensated for this review.*