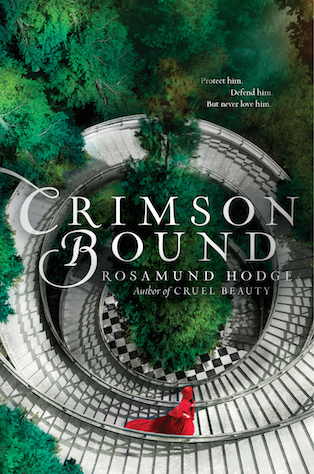 Title: Crimson Bound
Author: Rosamund Hodge
Series: Stand Alone
Published By: Balzer + Bray (May 5, 2015)
Source: ARC Copy Provided by the Publisher
(in exchange for an honest review)
Genre: YA Fantasy
My Rating: 4 Stars!
Book Description:
When Rachelle was fifteen she was good—apprenticed to her aunt and in training to protect her village from dark magic. But she was also reckless— straying from the forest path in search of a way to free her world from the threat of eternal darkness. After an illicit meeting goes dreadfully wrong, Rachelle is forced to make a terrible choice that binds her to the very evil she had hoped to defeat.
Three years later, Rachelle has given her life to serving the realm, fighting deadly creatures in an effort to atone. When the king orders her to guard his son Armand—the man she hates most—Rachelle forces Armand to help her find the legendary sword that might save their world. As the two become unexpected allies, they uncover far-reaching conspiracies, hidden magic, and a love that may be their undoing. In a palace built on unbelievable wealth and dangerous secrets, can Rachelle discover the truth and stop the fall of endless night?
Inspired by the classic fairy tale Little Red Riding Hood, Crimson Bound is an exhilarating tale of darkness, love, and redemption.
Although this is set in a different world from Cruel Beauty, it is every bit as hauntingly beautiful and deliciously dark as its predecessor.
Once again the pages are filled with wonderfully descriptive writing that transports you right into the very heart of the story and makes you feel as if you are a part of it. Breathing in the same air and seeing the same frightening yet beautiful woods.
The slight red riding hood comparison along with the unique ability to create a world unlike any others, Hodges really did come up with something original while having just a hint of a taste of a childhood classic.
Rashelle was an interesting character, one that both fascinated me and frustrated me. I didn't always agree with her choices, especially towards the end but that is what also made her feel more real instead of just a part of a fantasy world.
Engaging dialogue, almost lyrical prose, and a world you can't help but get sucked into this truly was another master piece.
Twists and turns, darkness and despair, love and friendship. This novel is sure to keep you on your toes and turning the pages.
*All thoughts and opinions are my own and were not influenced by the author or publisher. I was not compensated for this review.*