Happy Memorial Day! I hope all of you have had an amazing and safe weekend! I'm so happy to be part of this tour because it is one of my most favorites out there right now in YA.
You can check out my review of the last book
Lion Heart
, in case you missed it.
I adore this series. And while I was sad to see it end, I absolutely loved the ending and truly couldn't have asked for a better one that stayed true to the historic details, the plot and characters of the story.
Which, is why I'm so excited to bring you a guest post from Gaughen today. If you haven't tried this series, I can't stress enough how wonderful it is. I really hope you give it a second look because not only is the story and characters amazing, but so are the covers!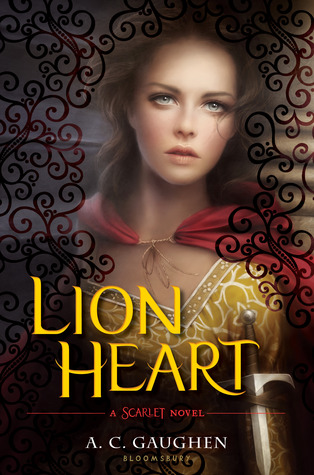 Published By: Bloomsbury (June 2, 2015)
Series: Book Three in the Scarlet Trilogy
Genre: YA Historical/Retelling
Book Description:
The eagerly-awaited conclusion to the Scarlet trilogy delivers another action-packed and romance-filled adventure.
Scarlet has captured the hearts of readers as well as the heart of Robin Hood, and after ceaseless obstacles and countless threats, readers will finally find out the fate of the Lady Thief.
Imprisoned by Prince John for months, Scarlet finds herself a long way from Nottinghamshire. After a daring escape from the Prince's clutches, she learns that King Richard's life is in jeopardy, and Eleanor of Aquitaine demands a service Scarlet can't refuse: spy for her and help bring Richard home safe. But fate—and her heart—won't allow her to stay away from Nottinghamshire for long, and together, Scarlet and Rob must stop Prince John from going through with his dark plans for England. They can not rest until he's stopped, but will their love be enough to save them once and for all?
About the Author:
I am shamelessly addicted to staying up far too late (it feels like stealing time), diet coke (it burns so good), Scotland (stupid country stole my heart and won't give it back. Interpol has been ineffective for prosecution) and thieves (so I guess I'm not that mad at Scotland).
Guest Post:
1. Why a series about Robin Hood?
It seems like a really simple question, but asking "why a series about Robin Hood" isn't simple at all. Because to me, Scarlet, Lady Thief and Lion Heart aren't just about Robin Hood—in fact, they might not be about Robin Hood at all.
But clearly, Robin is IN there, right? It's a Robin Hood story. And to make matters weirder, it's not like this is some sexy, unheard of story—Robin Hood gets rewritten roughly every 5-10 years, and has for literally hundreds of years. The story is told in every medium out there. There's something incredibly pervasive about this story that continually appeals to audiences, that transcends age and time. There's something eternal here.
For a writer, that can be totally damning—it's hard enough to find your voice enough to write a story, much less a story that literally everyone ever already knows. You walk into a bookstore, and you see every book as intimidating—much less every book that is literally about the same characters.
The whole reason I felt like I could write this story was because it was never was about Robin Hood for me. Obviously a huge part of it was about the way I always understood Will Scarlet—someone dark and shadowed, someone whose story hadn't been told. But that opened up so much more for me—when I looked back at history, what was missing? What story hadn't been told?
That is what the series has always been about for me—highlighting some inconsistencies within history, finding a narrative that felt fresh and relevant and like I was bringing something to light that wasn't there before. Honestly, this is what writing is all about for me—figuring out what the story is that only I can tell, and trusting that I have something unique and special to say.
Because we're all telling stories that have been told a hundred times over; we're all telling stories that still matter. So why Robin Hood? Because it was the story that I had to tell.
a Rafflecopter giveaway