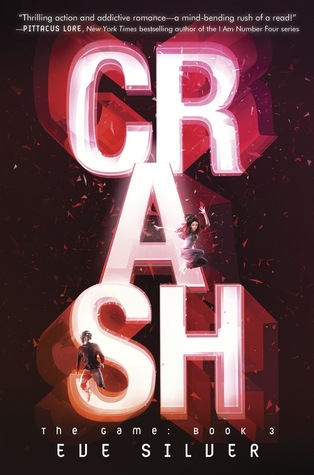 Title: Crash
Author: Eve Silver
Series: Book Three in the Game Trilogy
Published By: Katherin Tegen (June 9, 2015)
Source: ARC Copy Provided by the Publisher
(in exchange for an honest review)
Genre: YA Fantasy/Sci Fi
My Rating: 4.5 Stars!
Book Description:
A thrilling action/suspense novel for fans of The Fifth Wave about contemporary teens pulled in and out of an alternate reality where battling aliens is more than a game—it's life and death.
Miki's life is falling apart around her. Her dad and best friend are lying in the hospital. The Game is glitching, making missions more frequent and more deadly. And someone close to her is waiting for the right moment to betray her.
Miki feels like she's hanging on by a thread and the only thing keeping her tethered is Jackson's hand in hers. Yet telling him how much she needs him, how much she loves him, feels like the biggest challenge of all. And if Miki really wants the missions to end for everyone, she'll have to let go and be ready to fight when the walls between the Game and reality come crashing down. Because if there's one thing she's learned, it's that she's got a whole lot left to lose.
Crash is the pulse-pounding conclusion to the Game trilogy fans won't want to miss.
Like every thing the synopsis promised, Crash, was one heck of a conclusion to what turned out to be one fun, wild, thrill ride of a trilogy. I never thought I would love something so much that had a sci fi theme and not only that, but something any gamer (something I am not) would die to be a part of! Truly, The Game trilogy has become one of my most favorite trilogies out there.
It is original, unique and so much darn fun. Action packed, mysterious, and a sweet slow building romance that constantly had me on edge.
I already loved Miki and Jackson, but now? Now. I care for them more too. Once like friends, now like family. I didn't realize how much I had invested in their outcome until picking this up. I love when a series can consume you. Make you crave a happy ending. Hope for it so much you are nervous to begin because what if it doesn't work out like you want it to? What if one of them dies? What if, what if, what if?
I won't go into too much detail about things that happened because I don't want to give anything away from any of the books but I will say that a whole lot happens. Some good, some bad. But most importantly, all those questions I had about the game, the Committee, the Drau, all of them were answered. Every single one of them and really, what more could you ask for than that?
I loved how things came about, how much Miki and Jackson both grew, as a couple and individually. The chain of events that had to transpire to make everything else make sense in the story. The fast moving plot. The danger, the mystery, and even the romance were all done so nicely and believable to the rest of the story arc.
Truly this was a fabulous ending and, I actually loved that even though this was the ending, it could very well be the beginning for a new series, a spin off as well, which I will be holding my breath that we might actually get, because it would be fabulous to be immersed in this world that Silver created again.
*All thoughts and opinions are my own and were not influenced by the author or publisher. I was not compensated for this review.*