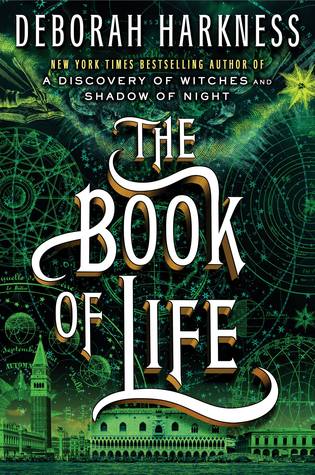 Title: The Book of Life
Author: Deborah Harkness
Series: Book Three in the All Souls Trilogy
Published By: Viking Adult (July 15, 2014)
Source: ARC Copy Provided by the Publishers
(in exchange for an honest review)
Genre: Fantasy
My Rating: 5 Stars!
Book Description:
After traveling through time in Shadow of Night, the second book in Deborah Harkness's enchanting series, historian and witch Diana Bishop and vampire scientist Matthew Clairmont return to the present to face new crises and old enemies. At Matthew's ancestral home at Sept-Tours, they reunite with the cast of characters from A Discovery of Witches—with one significant exception. But the real threat to their future has yet to be revealed, and when it is, the search for Ashmole 782 and its missing pages takes on even more urgency. In the trilogy's final volume, Harkness deepens her themes of power and passion, family and caring, past deeds and their present consequences. In ancestral homes and university laboratories, using ancient knowledge and modern science, from the hills of the Auvergne to the palaces of Venice and beyond, the couple at last learn what the witches discovered so many centuries ago.
We all have those series we want the whole world to know just how simply amazing they are. We want everyone to pick them up and read them and of course, to love them as much as we do.
This is my series. I adore this series and I want to shout from the roof tops about how wonderful the writing is. How quickly you can get wrapped up in the story line, in the characters, and how the plot is ever evolving and changing.
This series is rich in detail and everything I love about both the paranormal, the modern, and the historic.
I did something with this book that I have never done before with any book this highly anticipated. I read it slowly. I savored it. I absorbed it and I relished in it.
Even though I was dying to devour it I knew this was no ordinary series and because of it, it would be no ordinary last book. It would be, once again, rich in information and description and it needed to be read reverently.
Matthew and Diana's journey has been a long one. A trying one and one filled with danger as much as it has love. I couldn't do the series, couldn't do them, justice by racing through this to the end.
I relished in all the intricate beautifully woven pieces come together to form one final book. On final chapter to their story and what a wonderful one it was.
Harkness has a talent of being able to completely wrap you up in her story. To relish in the details of it all and paint a picture so full of life that you are transported right into the very heart of the story.
Characters I already knew and loved became more life like and real and I loved them all the more. They pierced my heart and borrowed deeply inside.
I feel so very happy and content with the way everything was done. With the way it all came together, was told, and was lived.
*All thoughts and opinions are my own and were not influenced by the author or publisher. I was not compensated for this review.*