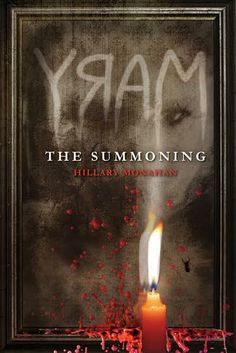 Title: Mary: The Summoning
Author: Hillary Monahan
Series: Book One in the Bloody Mary Series
Published By: Disney-Hyperion (September 2, 2014)
Source: ARC Copy Provided by the Publisher
(in exchange for an honest review)
Genre: YA Thriller/Horror
My Rating: 3.5 Stars
Book Description:
There is a right way and a wrong way to summon her.
Jess had done the research. Success requires precision: a dark room, a mirror, a candle, salt, and four teenage girls. Each of them--Jess, Shauna, Kitty, and Anna--must link hands, follow the rules . . . and never let go.
A thrilling fear spins around the room the first time Jess calls her name: "Bloody Mary. Bloody Mary. BLOODY MARY." A ripple of terror follows when a shadowy silhouette emerges through the fog, a specter trapped behind the mirror.
Once is not enough, though--at least not for Jess. Mary is called again. And again. But when their summoning circle is broken, Bloody Mary slips through the glass with a taste for revenge on her lips. As the girls struggle to escape Mary's wrath, loyalties are questioned, friendships are torn apart, and lives are forever altered.
A haunting trail of clues leads Shauna on a desperate search to uncover the legacy of Mary Worth. What she finds will change everything, but will it be enough to stop Mary--and Jess--before it's too late?
Who hasn't heard of Bloody Mary and been frightened as a child of the thought of her coming through the mirror at night and capturing your soul? Who hasn't shuttered at the very thought of going into a dark bathroom and chanting her name three times in the mirror to see what would happen? Who hasn't felt that thrill of excitement and dread all mixed together at all the possibilities of the whatifs?
What if you really called her to you? What if the stories were true and she was a terrible horrible ghost that would not leave you alone? What if there was more to her story than the legends told?
What if Mary was just an ordinary girl like you and I and something horrible happened to her?
Can I just say for the record that I made a point not to read this one in the dark. Or alone, or in a bathroom. Can you say freaking creepy? Gah!
Did I mention that while I love these type of reads, and I really do mean that, I am also the worlds biggest chicken and often terrify myself by reading them?
Well, I am and I did freak myself out with this one, or rather the author freaked me out with her great story telling abilities. I might not be able to look into a mirror again at night..ever.
I can't even tell you much about this other than it is probably as scary as you are thinking it is and just as gross. The description, the detail...ick. I loved every minute of it.
This was such a fast read and was over way before I wanted it to be. I didn't have all my answers, I didn't have a conclusion and I definitely didn't have a happily ever after, not that I was really expecting one in this read but, still...there is a ghost on the lose, and she is out for blood, literally.
Oh I will so be picking up the second book as soon as it is released.
*All thoughts and opinions are my own and were not influenced by the author or publisher. I was not compensated for this review.*