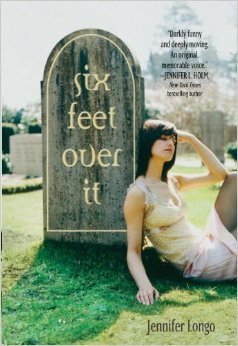 Title: Six Feet Over It
Author: Jennifer Longo
Series: Stand Alone
Published By: Random House Books For Young Readers (August 26, 2014)
Source: ARC Copy Provided by the Publisher
(in exchange for an honest review)
Genre: YA Contemporary
My Rating: 4 Stars!
Book Description:
Home is where the bodies are buried.
Darkly humorous and heart-wrenchingly beautiful, Jennifer Longo's YA debut about a girl stuck living in a cemetery will change the way you look at life, death, and love.
Leigh sells graves for her family-owned cemetery because her father is too lazy to look farther than the dinner table when searching for employees. Working the literal graveyard shift, she meets two kinds of customers:
Pre-Need: They know what's up. They bought their graves a long time ago, before they needed them.
At Need: They are in shock, mourning a loved one's unexpected death. Leigh avoids sponging their agony by focusing on things like guessing the headstone choice (mostly granite).
Sarcastic and smart, Leigh should be able to stand up to her family and quit. But her world's been turned upside down by the sudden loss of her best friend and the appearance of Dario, the slightly-too-old-for-her grave digger. Surrounded by death, can Leigh move on, if moving on means it's time to get a life?
This book is so very hard for me to review.
It was a hard book to read even, for many reasons mostly because, this isn't a happy go lucky kind of read. It is about a girl that is literally surrounded by death, every single day. But that isn't what makes the story special, or even the girl for that matter. Instead, this is a story about a girl trying to deal with death, not just live with it.
There is depth to the pages, to the inner monologue and to the conversations around Leigh and sometimes, even more importantly, to what isn't being said or shown but rather what is being felt instead.
I don't think this book will appeal to everyone, but I do think those that get it, that get the messages, are going to love it and cherish it and be thankful that they read it.
The humor is dark and snarky. No witty banter in this one but rather the musing of a girl so very lost and trying to find her way that it is instead sad at times and heart wrenching.
This is Longo's debut novel and I must say, she will be one to watch in the future. One that will bring us something outside of the norm for the genre. Those reads that make us really stop and think and most of all, feel.
*All thoughts and opinions are my own and were not influenced by the author or publisher. I was not compensated for this review.*