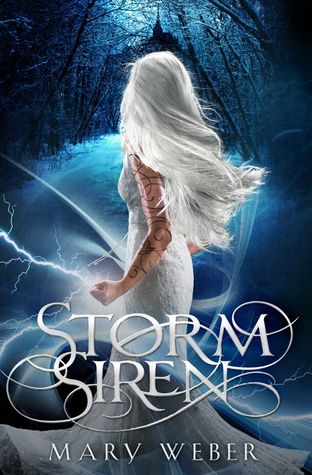 Title: Storm Siren
Author: Mary Weber
Series: Book One in the Storm Siren Series
Published By: Thomas Nelson/Harper Collins (August 19, 2014)
Source: ARC Copy Provided by the Publisher
(in exchange for an honest review)
Genre: YA Fantasy
My Rating: 3.5 Stars!
Book Description:
"I raise my chin as the buyers stare. Yes. Look. You don't want me. Because, eventually, accidentally, I will destroy you."
In a world at war, a slave girl's lethal curse could become one kingdom's weapon of salvation. If the curse—and the girl—can be controlled.
As a slave in the war-weary kingdom of Faelen, seventeen-year-old Nym isn't merely devoid of rights, her Elemental kind are only born male and always killed at birth — meaning, she shouldn't even exist.
Standing on the auction block beneath smoke-drenched mountains, Nym faces her fifteenth sell. But when her hood is removed and her storm-summoning killing curse revealed, Nym is snatched up by a court advisor and given a choice: be trained as the weapon Faelen needs to win the war, or be killed.
Choosing the former, Nym is unleashed into a world of politics, bizarre parties, and rumors of an evil more sinister than she's being prepared to fight . . . not to mention the handsome trainer whose dark secrets lie behind a mysterious ability to calm every lightning strike she summons.
But what if she doesn't want to be the weapon they've all been waiting for?
Set in a beautifully eclectic world of suspicion, super abilities, and monsters, Storm Siren is a story of power. And whoever controls that power will win.
There was no way after seeing all of the glowing reviews for this going around the blogsphere that I was going to say no to it. Add in the fact that this wasn't a mermaid or siren story (something I sadly have a love hate relationship with) and I was completely sold on starting this. I just knew it was going to be more than a pretty cover. After all, how could all those 4 and 5 star reviews be wrong?
Thankfully they weren't wrong, at least not completely. . This was so much fun and I seriously I liked it more than I thought I would in fact. My only real complaint and reason why I wasn't completely in love with it was because of the lack of world building. Things needed to be explained just a bit more. Terms were thrown out at us and names of places but that was the extent of our knowledge about them and sadly our explanation but you know what, in the end it was okay because the rest of the book was so entertaining that I could ignore the lack of other things.
I enjoyed Nym, Breck, Collin and Eogan so much. Each of their stories came out little by little, nugget by nugget and I really enjoyed knowing more about them.
I loved the world that we did get to see, what was explained about the people and about Nym and Collin's powers and what being an Elemental meant to not only Nym but the others as well.
Overall this was a fun exciting read that was filled with all things magical with just enough hint at a romance to keep you guessing and wanting more.
I do have to warn you though that there is quite the nasty cliffhanger at the end, so be prepared for it, I wasn't and I almost (almost) wish I would have waited to start this one when book two was closer to being released.
*All thoughts and opinions are my own and were not influenced by the author or publisher. I was not compensated for this review.*