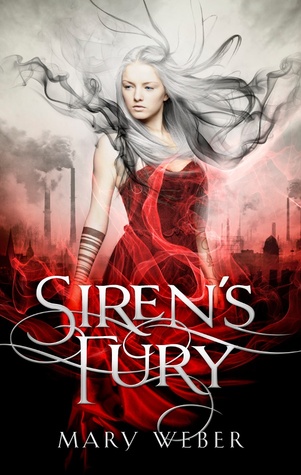 Title: Siren's Fury
Author: Mary Weber
Series: Book Two in the Storm Siren's Series
Published By: Thomas Nelson/Harper Collins (June 2, 2015)
Source: ARC Copy Provided by the Publisher
(in exchange for an honest review)
Genre: YA Fantasy
My Rating: 4 Stars!
Book Description:
"I thrust my hand toward the sky as my voice begs the Elemental inside me to waken and rise. But it's no use. The curse I've spent my entire life abhorring—the thing I trained so hard to control—no longer exists."
Nym has saved Faelen only to discover that Draewulf stole everything she valued. Now he's destroyed her Elemental storm-summoning ability as well.
When Nym sneaks off with a host of delegates to Bron, Lord Myles offers her the chance for a new kind of power and the whispered hope that it may do more than simply defeat the monster she loathes. But the secrets the Bron people have kept concealed, along with the horrors Draewulf has developed, may require more than simply harnessing a darker ability.
They may require who she is.
Set against the stark metallic backdrop of the Bron kingdom, Nym is faced with the chance to change the future.
Or was that Draewulf's plan for her all along?
I really enjoyed the first book in this trilogy and even though it ended on a killer of a cliffhanger, it made me even more eager to try the next installment, which is why I jumped at the chance to read it, hoping like crazy it would be even better than the first and thankfully, it was.
This second installment held me captive like the first hadn't quite managed to do. I was completely invested in both Nym, Eogan, and Rasha's future not to mention the villain of the story, Draewulf.
Action packed, emotional, and keep you on the edge of your seat twists, this second installment was not a filler read by any means. It held its own and made me side with those I never thought I would like and fall in love with those that I already did like.
Things are heating up, getting more serious, and dire than ever before as Nym and her friend's fight Draewulf and try to bring peace back to the nations.
Nym is stronger, fiercer, and more loyal than ever to those that she has come to trust, love, and bond with and I loved seeing how much she has grown as a person and as a warrior. She has never had it easy and this book doesn't make it easy for her either but what she is, is fighter and I really to admire that about her.
So much happens in this that is was almost non-stop action, tension, and mystery and I truly loved every minute of it.
I can't wait to see what happens in book three.
*All thoughts and opinions are my own and were not influenced by the author or publisher. I was not compensated for this review*