Welcome to my stop on the Jesse's Girl Blog Tour!
I am so excited to be a part of this tour because Miranda is truly one of my favorite YA contemporary authors. Her Hundred Oaks series is just fabulous and if you haven't read it yet, you need to !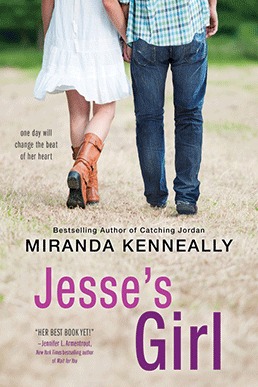 Series: Hundred Oaks
Published By: SourceFire Books (July 7, 2015)
Book Description:
Everyone at Hundred Oaks High knows that career mentoring day is a joke. So when Maya Henry said she wanted to be a rock star, she never imagined she'd get to shadow *the* Jesse Scott, Nashville's teen idol.
But spending the day with Jesse is far from a dream come true. He's as gorgeous as his music, but seeing all that he's accomplished is just a reminder of everything Maya's lost: her trust, her boyfriend, their band, and any chance to play the music she craves. Not to mention that Jesse's pushy and opinionated. He made it on his own, and he thinks Maya's playing back up to other people's dreams. Does she have what it takes to follow her heart—and go solo?
Growing up in Tennessee, Miranda Kenneally dreamed of becoming an Atlanta Brave, a country singer (cliché!), or a UN interpreter. Instead she writes, and works for the State Department in Washington, D.C., where George W. Bush once used her shoulder as an armrest. Miranda loves Twitter, Star Trek and her husband.
Ever since first reading Catching Jordan so many years ago, I have loved this series, Miranda's writing ability and the world and characters that she has created. I vowed there and then that I would read anything that she has to offer us readers because she really is just that good.
Her latest is no different. Once again we are thrown back into the life of Hundred Oaks, with familiar faces as well as some new ones but this time, this time we get a sexy, cowboy rock star to keep us interested and to shake some things up. And if that wasn't enough we also get Sam's younger spunky rock n' roll sister, Maya and when you bring these two together, things really do get interesting.
I first have to say that I love, loved, all the scenes where Sam and Jordan made an appearance! I adore this couple and to see where they are now, two years later from their last appearance, many years later from Catching Jordan, was just so very much fun and I could kiss Miranda for giving us these scenes.
Now back to Jesse and Maya. Oh boy these two were pretty electric together. Couldn't be more opposite nor more the same if they tried. I loved their dynamic together and the friendship that they formed before anything else. The non insta-love of it all was so nice to get. Add in the music aspect,their maturity (they actually talked through problems!), friendship (Dale was a fun character!), and understanding of one another truly made this different from a lot of YA books out there right now and even from others in her series and I truly enjoyed that about it.
This was another cute, fun, and enjoyable read from Miranda and a great addition to the series. So happy I read it and got to experience it.
*All thoughts and opinions are my own and were not influenced by the author or publisher. I was not compensated for this review> A big thanks to SourceFire books for the ARC copy of this read!*