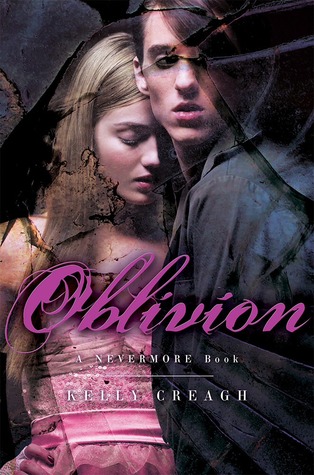 Title: Oblivion
Author: Kelly Creagh
Series: Book Three in the Nevermore Trilogy
Published By: Atheneum Bookf For Young Readers (July 28, 2015)
Source: ARC Copy Provided by the Publisher
(in exchange for an honest review)
Genre: YA Fantasy
My Rating: 4 Stars!
Book Description:
This electrifying conclusion to the Nevermore trilogy takes one last trip to the dream world of Edgar Allan Poe to reveal the intertwined fates of Isobel and Varen.
The boundaries which divide Life from Death are at best shadowy and vague. Who shall say where the one ends, and where the other begins? —Edgar Allan Poe
The fine line between life and death blurred long ago for Isobel Lanley. After a deadly confrontation with Varen in the dreamworld, she's terrified to return to that desolate and dangerous place. But when her nightmares resume, bleeding into reality, she is left with no choice. Varen's darkness is catching up to her. To everything. Threatening to devour it all.
Isobel fears for her world. For her sanity and Varen's—especially after a fresh and devastating loss. To make matters worse, the ghostly demon Lilith wants Varen for her own, and she will do anything to keep him in her grasp—anything.
Can Isobel ever find her happy ending? Worlds collide and fates are sealed in this breathtaking finale to the Nevermore trilogy.
I truly have enjoyed this trilogy from the very start. It's dark Edgar Allen Poe feel was hard to resist and with each new installment, the writing grew darker, more serious, and even more beautiful.
So it was with slight trepidation that I went into this last book. Wanting to know how it would all end, keeping my fingers crossed for the best and hoping the author would stick true to the tone of the rest of the books.
And she did. Once again Creagh painted a beautifully dark world. One where Isobel is struggling to break, conquer, and to rescue her love from.
Varen didn't play a huge role in this like the others, instead, we get Isobel, battered, bruised, confused, and in danger now, more than ever. But we also see a stronger, fiercer, more assertive girl appear. One who is no longer the weak cheerleader of book one, nor the more passive girl from book two.
She is determined, on a mission, and not afraid of any of the consequences and I loved how much her character grew not only in this last installment, but in the whole series.
Everything came together so nicely, so beautifully done, and I loved every minute of it. Creagh didn't leave anything undone or unanswered and while not everyone got a happily ever after, I was so pleased with the way it all came about. Truly, a great ending to this unique story.
*All thoughts and opinions are my own and were not influenced by the author or publisher. I was not compensated for this review.*