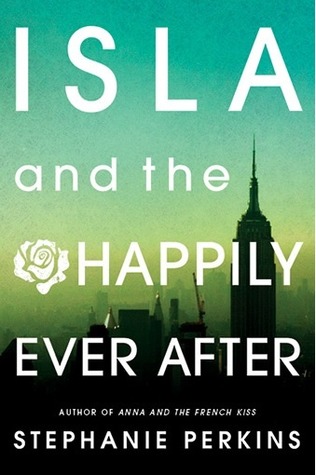 Title: Isla and the Happily Ever After
Author: Stephanie Perkins
Series: Book Three in Anna and the French Kiss Trilogy
Published By: Dulton (August 14, 2014)
Source: Purchased
Genre: YA Contemporary
My Rating: 4 Stars!
Book Description:
Love ignites in the City That Never Sleeps, but can it last?
Hopeless romantic Isla has had a crush on introspective cartoonist Josh since their first year at the School of America in Paris. And after a chance encounter in Manhattan over the summer, romance might be closer than Isla imagined. But as they begin their senior year back in France, Isla and Josh are forced to confront the challenges every young couple must face, including family drama, uncertainty about their college futures, and the very real possibility of being apart.
Featuring cameos from fan-favorites Anna, Étienne, Lola, and Cricket, this sweet and sexy story of true love—set against the stunning backdrops of New York City, Paris, and Barcelona—is a swoonworthy conclusion to Stephanie Perkins's beloved series.
It seems I have been waiting to read this book for, well, for forever now. In truth it probably hasn't been as long as it seems but when you fall in love with an author's writing abilities, you really do want to devour everything they have ever written and waiting for something new can be tough, excruciating even.
I already loved Josh from Anna and the French Kiss so it was no surprise that I loved him from the moment this story began. There is just something so very lovable about a brilliant artist with a heart of gold. One willing to do things for those he loves without thinking twice about it.
It has taken me forever to get this review written mostly because I didn't know how to express everything I felt while reading this. I found all the things I loved in the first book and then things I didn't even know I wanted in this.
I love that once again we get to see France. I didn't' even realize how much I missed that setting until we were once again on the streets of Paris and hanging out at all the old stops of Anna and Etienne. That we got to ssay goodbye to them all in one last final hoorah before it was all over.
But most of all, I love how Perkins can get me completely swept away in the endearing and heartfelt emotions of her work. In the smile inducing sweetness of her romances.
This was another winner by Perkins and a close second to my love for the first book, which, I admit, didn't think was going to be possible. I can't wait to see what else this amazing author has in store for us.