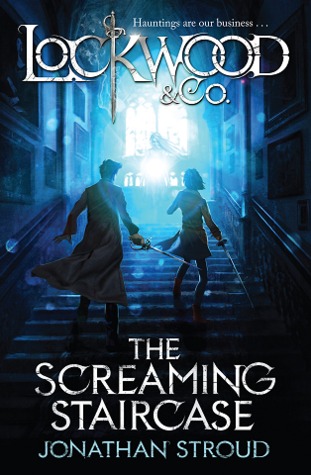 Title: The Screaming Staircase
Author: Jonathan Stroud
Series: Book One in the Lockwood & Co. Series
Published By: Doubleday Children's (August 29, 2013)
Source: Purchased
Genre: MG Paranormal
My Rating: 4 Stars
Book Description:
When the dead come back to haunt the living, Lockwood & Co. step in . . .
For more than fifty years, the country has been affected by a horrifying epidemic of ghosts. A number of Psychic Investigations Agencies have sprung up to destroy the dangerous apparitions.
Lucy Carlyle, a talented young agent, arrives in London hoping for a notable career. Instead she finds herself joining the smallest, most ramshackle agency in the city, run by the charismatic Anthony Lockwood. When one of their cases goes horribly wrong, Lockwood & Co. have one last chance of redemption. Unfortunately this involves spending the night in one of the most haunted houses in England, and trying to escape alive.
Set in a city stalked by spectres, The Screaming Staircase is the first in a chilling new series full of suspense, humour and truly terrifying ghosts. Your nights will never be the same again . . .
After seeing so many glowing reviews for this and the simple fact that it is all about ghost hunting, there was no way I could pass this up. I almost never resist a good ghost story.
Even though set in modern day London (or at least I think that is the setting since it never gives a year), I couldn't help but love the old world style to it. An almost Sherlock Holmes feel to it if you will.
I loved this from the very first page and while there was a lot of info dumping (to be expected of course) it was done just right as to never weigh the story down. It was done with just the right amount of finesse to keep it interesting and the story active and alive.
I liked Lucy, George, and Anthony right away. George added just enough humor and fun to the story to truly make it engaging and Lockwood enough mystery that it kept me turning the pages.
I loved that while I wouldn't exactly say this was scary, it did have some slightly creepy moments. The ghosts are definitely not Casper material but instead, mean, confused and vengeful and sometimes, even out for blood. I will definitely be picking up book two as soon as I can.