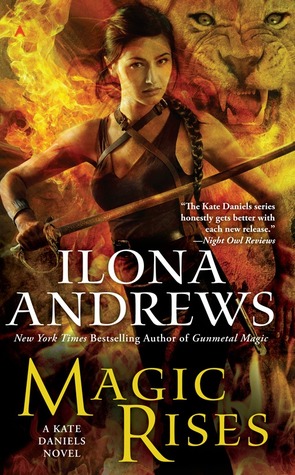 Title: Magic Rises
Author: Ilona Andrews
Series: Book Six in the Kate Daniels Series
Published By: Ace (July 30, 2013)
Source: Purchased
Genre: Urban Fantasy
My Rating: 5 Stars!
Book Description:
Mercenary Kate Daniels narrates a surprising trip with her bite-me humor. The pack of her mate Curran, werelion Beast Lord, need rare medicine from Europe to save children who die from stuck shapeshifting. Europe offers them barrels of the drug if they guard a spoiled princess. Knowing the invite is a trap, of course they sail right in.
It is funny how you can miss a world and it's characters so very much without even really realizing it until you pick the series back up and dive in and all those feels, all that love you have for them, come rushing back in.
And the new people, holy heck I love Keira! It is funny how just when you think you have all the characters figured out, all the ones you think you love, someone new steps in and manages to steal the show. But the best part of this series, really is the characters. How well they work together, like each other (in most cases) and how they have each other's back. Curran and Kate will always be number one, but Andrea and Raph, are such a close second, I adore these two, especially after reading Andrea's story in the last book. Keira and Eduardo were hilarious, Doolittle amazing like always and Derek, well, he is just wonderful and I so want someone for him so much so that it hurts. He needs someone in his life to love him for him because he is amazing.
Barabas was once again hilarious and adds something light to the mix and Aunt B was...well, Aunt B and I love her for it.
If there is one thing I love most about this series, besides the amazing characters, it is the diverse range of sups. Just when I think I know them all, they throw a new one into the mix, weredolphins, who would have thought?
Throw in pirates, myths, storms, and one heck of a battle (or a dozen) and once again, this was one action packed, blow your mind kind of read.
While I loved this read, it is a hard one to review at the same time because of all the damn feels it made me have. So very much happens. I wanted to punch characters, knee others, hug even more of them, and shake a few along the way.
Did I mention that I cried too? Because I did, a couple of times. I'm not going to lie, people die, a lot of them and I don't just mean the bad guys this time.
Once again I am in love with this series. The Andrews certainly know what they are doing and I can't wait for more but I am so very nervous about it all too.