Welcome to my stop for the Racing The Sun blog tour!
I have to tell you guys, this was such an amazing read and truly perfect for this time of year. I really hope you will take a look and consider adding it to your TBR pile because, you won't regret it, plus, come on, Karina is a brilliant writer and this is one you don't want to miss.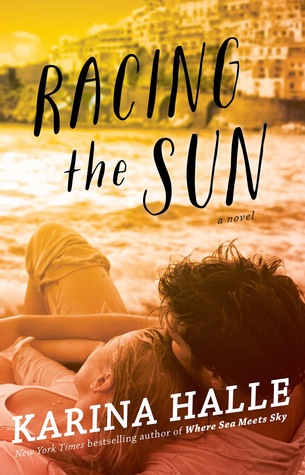 Release Date: July 28, 2015 by Atria Books
Book Description:
From the USA TODAY bestselling author of Where Sea Meets Sky comes a new adult novel about a young woman who becomes a nanny in Capri and falls for her charges' bad-boy brother.
It's time for twenty-four-year-old Amber MacLean to face the music. After a frivolous six months of backpacking through New Zealand, Australia, and Southeast Asia, she finds herself broke on the Mediterranean without enough money for a plane ticket home to California. There are worse places to be stuck than the gorgeous coastline of southern Italy, but the only job she manages to secure involves teaching English to two of the brattiest children she's ever met.
It doesn't help that the children are under the care of their brooding older brother, Italian ex-motorcycle racer Desiderio Larosa. Darkly handsome and oh-so-mysterious, Derio tests Amber's patience and will at every turn—not to mention her hormones.
But when her position as teacher turns into one as full-time nanny at the crumbling old villa, Amber finds herself growing closer to the enigmatic recluse and soon has to choose between the safety of her life back in the States and the uncertainty of Derio's closely guarded heart.
About the Author:
Karina Halle is the New York Times bestselling author of Where Sea Meets Sky, The Pact, Love in English, and other wild and romantic reads. A former travel writer and music journalist, she lives on an island off the coast of British Columbia with her husband and her rescue pup, where she drinks a lot of wine, hikes a lot of trails, and devours a lot of books.
If there is one thing you can count on with a book written by Halle, it is that you will get something original, fresh, and so hot and swoon worthy you won't want it to end.
Add in a gorgeous Italy setting, gorgeous Italy men, and a slow building romance that is sure to make you blush and a story every bit as endearing as it is sweet, and you truly have the perfect summer read that is sure to please anyone.
I have said this numerous times I know but it still holds true and bears repeating, there is just something about a broken person being made whole by someone truly worthy of their love that is so endearing and appealing. I can't get enough of them and Halle creates those characters in Amber and Derio and of course, his siblings. I fell in love with every character equally in this story and couldn't get enough of them, their heart aches, their troubles and later, their triumphs as they overcame their fears and healed their hearts together.
If you are a fan of this author this is one you truly don't want to miss out on. Even if you are a first time reader of her, this is one you don't want to miss out on. The perfect blend of everything that makes a good New Adult book a stand out in the genre and really shine like the sun.
*A review copy was received in exchange for an honest review. All thoughts and opinions are my own and were not influenced by the author or publisher. I was not compensated for this review.*
a Rafflecopter giveaway