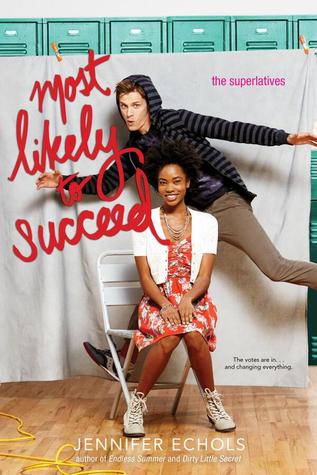 Title: Most Likely to Succeed
Author: Jennifer Echols
Series: Book Three in the Superlatives Trilogy
Published By: Simon Pulse (August 4, 2015)
Source: ARC Copy Provided by the Publisher
(in exchange for an honest review)
Genre: YA Contemporary
My Rating: 4 Stars!
Book Description:
In this sexy conclusion to The Superlatives trilogy from Endless Summer author Jennifer Echols, Sawyer and Kaye might just be perfect for each other—if only they could admit it.
As vice president of Student Council, Kaye knows the importance of keeping order. Not only in school, but in her personal life. Which is why she and her boyfriend, Aidan, already have their lives mapped out: attend Columbia University together, pursue banking careers, and eventually get married. Everything Kaye has accomplished in high school—student government, cheerleading, stellar grades—has been in preparation for that future.
To his entire class, Sawyer is an irreverent bad boy. His antics on the field as school mascot and his love of partying have earned him total slacker status. But while he and Kaye appear to be opposites on every level, fate—and their friends—keep conspiring to throw them together. Perhaps the seniors see the simmering attraction Kaye and Sawyer are unwilling to acknowledge to themselves…
As the year unfolds, Kaye begins to realize her ideal life is not what she thought. And Sawyer decides it's finally time to let down the facade and show everyone who he really is. Is a relationship between them most likely to succeed—or will it be their favorite mistake?
I have loved this whole series, with fun likable and realistic characters, humor and romance around every corner and storyline that just got better, this series has quickly become a favorite. And even though I loved book one and two, book three was the one I was more excited about.
I have loved Sawyer from the get go and was so very excited to finally see that book three, would be all about him! I just knew there was so much more depth to him and his beach bum ways. It wasn't hard to tell who he was in love with and to see that, behind all that flirting, truly lurked an amazing guy.
And I am so happy to report that I wasn't wrong! Sawyer was every bit as great as I knew he would be and my heart went out to him as we learned more about him, his past, and his relationship with his family.
In fact, I am going to go so far as to say that this was by far my favorite book of the series, simply because of him. Sawyer is the type of guy in high school that we probably all knew and if we were lucky, could call a friend as well.
And while I loved every minute of this read, I couldn't help but feel sad at the ending. It wasn't a bad ending by any stretch of the imagination but I wasn't ready for it to be over and I just wanted more.
While all the main character's stories have been told, I would so love a book that shows them all after graduation. Where they are, who they are with. I doubt we will get one but I would absolutely love it if we did because this series has been so much fun to read, a sign that Echols really knows her stuff.
*All thoughts and opinions are my own and were not influenced by the author or publisher. I was not compensated for this review.*